Syracuse New York Cranes for Sale and Rent
Cranes for Sale and Rent

Bigge is proud to serve Syracuse, NY, and the surrounding areas with construction and industrial crane sales and crane rental needs. As the official crane dealer for Tadano, Kobelco, Liebherr, Manitowoc, Potain, Peiner, Terex, Comedil, Broderson, Merlo, Magni, Xtreme, Manitex, and Jekko, we offer an extensive range of high-quality cranes for sale and rent. Syracuse is the fifth-largest city in the state of New York, located in Onondaga County, nestled in the scenic Finger Lakes region.

Bigge's crane sales and crane rental services cater to a variety of construction projects in delightful downtown Syracuse and the surrounding areas, including the cities of Liverpool, Clay, and Cicero, all the way to Rochester.
Our extensive inventory of high-quality cranes, including Rough Terrain cranes (RTs), All-Terrain cranes (ATs), Telecrawlers, and Boom trucks, is available for sale and rent to support various construction needs. We take pride in our reliable and well-maintained crane fleet, which is available at competitive rates.
Expert Crane Sales Team
At Bigge, we take pride in our knowledgeable and experienced crane sales team. Our sales professionals are experts in the industry and have a deep understanding of crane specifications, configurations, and capabilities. Our sales managers work closely with our customers to understand their specific needs and recommend the right equipment for their project requirements.
Our commitment to providing exceptional service and expertise sets us apart from other crane dealers. With over 100 years of experience in the crane industry, we have built a reputation for excellence. We are dedicated to helping our customers find the right equipment for their specific needs. We have the largest inventory of cranes for sale in the US, and we can also provide customized solutions tailored to your project requirements.

Post Sales Support
In addition to our expert sales team, we offer extensive post-sales support to ensure our customers have a seamless experience. We provide comprehensive training for crane operators, maintenance staff, and safety managers to ensure safe and efficient crane operations. We also offer maintenance and repair services to keep our customers' equipment in top condition, minimizing downtime and maximizing productivity. Our support team is always available to answer any questions or address any issues that may arise, ensuring that our customers can confidently focus on their projects. At Bigge, we are committed to providing exceptional service and support throughout the entire crane ownership experience.

Cranes for Rent

Our Syracuse location offers a comprehensive range of cranes for rent, including Rough Terrain cranes (RTs), All-Terrain cranes (ATs), Telecrawlers, and Boom trucks. Whether you need to lift heavy equipment on a construction site or transport materials to a high-rise building, our crane fleet has you covered. Our cranes are professionally maintained, reliable, and available for sale and rent.

Need Crane Service?
Bigge has the best equipment, the youngest crane fleet and more board-certified Safety Trained operators and supervisors than any other crane rental outfit in the business. Request a Quote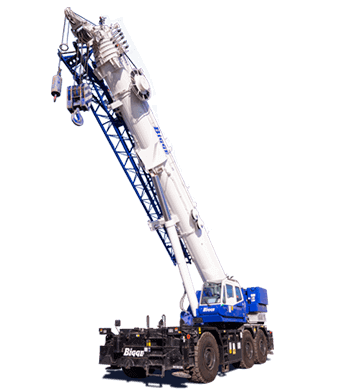 Bigge Crane and Rigging Co.
(315) 314-4758
7021 Performance Dr
Syracuse, NY 13212
Areas Served
Syracuse, NY
Geneva, NY
Hamilton, NY
Utica, NY
Seneca Falls, NY
Rome, NY
Oswego, NY
Oneida, NY
Solutions for Every Industry
Heavy Lift Equipment and Cranes for Rent
Bigge's Perfect Fleet is one of the largest, most modern, and versatile crane fleets in the world. Over the years, our fleet has grown to over 1500 cranes consisting of best in class truck cranes, all-terrain cranes, rough terrain cranes, crawler cranes, tower cranes, boom trucks, and hoists. Browse the categories below to see cranes or rent.
Bigge in Action
Bigge is a renowned provider of crane services on the East Coast and throughout New York. From our Bridgewater, NJ location, we offer customers crane sales, and crane rental services.