2013 Tadano GR-750XL-2
Rough Terrain Crane For Sale
2013 Tadano GR-750XL-2
Rough Terrain Crane for Sale
| | |
| --- | --- |
| Max Cap | 75 US Tons |
| Condition | Used |
| Boom | 141 ft |
| Winches | 2 |
| EQT # | RTC75185 |
| Location | Tour This Facility Syracuse, NY |
| | |
| --- | --- |
| Max Cap | 75 US Tons |
| Condition | Used |
| Boom | 141 ft |
| Winches | 2 |
| EQT # | RTC75185 |
| Location | Tour This Facility Syracuse, NY |
The Tadano GR-750XL‑2 is a 75 ton rough terrain crane. It's 5 section full power boom has a maximum length of 141 ft. and its maximum jib length is 58 ft.
In true Tadano fashion, the Tadano GR-750XL‑2 was built with toughness in mind. It features a rugged frame and a hydraulic suspension system specially made to handle the toughest jobs and jobsites.
The Tadano GR-750XL‑2 also features new Hello Net technology, allowing for easy access to job history, and also allowing the user to locate the crane at any moment. Asymmetrical Outriggers add another benefit by allowing operators and teams to stay safe while operating on jobs that require unconventional lifts. The onboard AML‑C will slow stop when the crane is pushed to unsafe conditions, limiting safety hazards.
Two devices on the Tadano GR-750XL help to reduce fuel consumption. The eco mode system reduces engine power when it isn't needed by 40%. The Positive Control System reduces fuel consumption while the crane is idle but still on by 60%. By limiting fuel consumption, cranes leave less of an impact on the environment and they save money.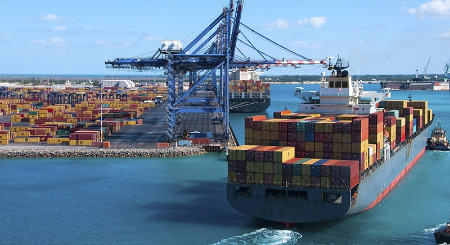 Bigge works with experienced logistic partners to handle shipping of our equipment to our customers and partners.
They have the knowledge and expertise to handle project cargo and deliver your equipment anywhere in the world. Our partners can accommodate any special considerations for large size and heavy machinery, inland and ocean freight and project management. This includes legal forms, customs paperwork and other issues that may arise until your equipment reaches the port of destination.
When you purchase equipment with Bigge, you have peace of mind that it will be handled by logistics professionals, and will arrive safe to your destination.
Can't find what you're looking for?
Get in touch with a Bigge representative now - we're just a phone call away!
Contact us