Bigge Announced as Largest Owner of Kobelco Cranes in the US
On March 10, 2020 at ConExpo/Con-Agg Kobelco announced that Bigge Crane and Rigging Co. had completed the purchase of 20 Kobelco crawler cranes for its Perfect Fleet. In a special ceremony, Bigge President and CEO Weston Settlemier officially accepted the ownership of their fifth 330 US ton Kobelco crane.

Jack Fendrick, Chief Operating Officer of Kobelco North America, stated, ​"Bigge has been a dealer for over a decade and during that time has really shown what it takes to support such a rapidly growing organization."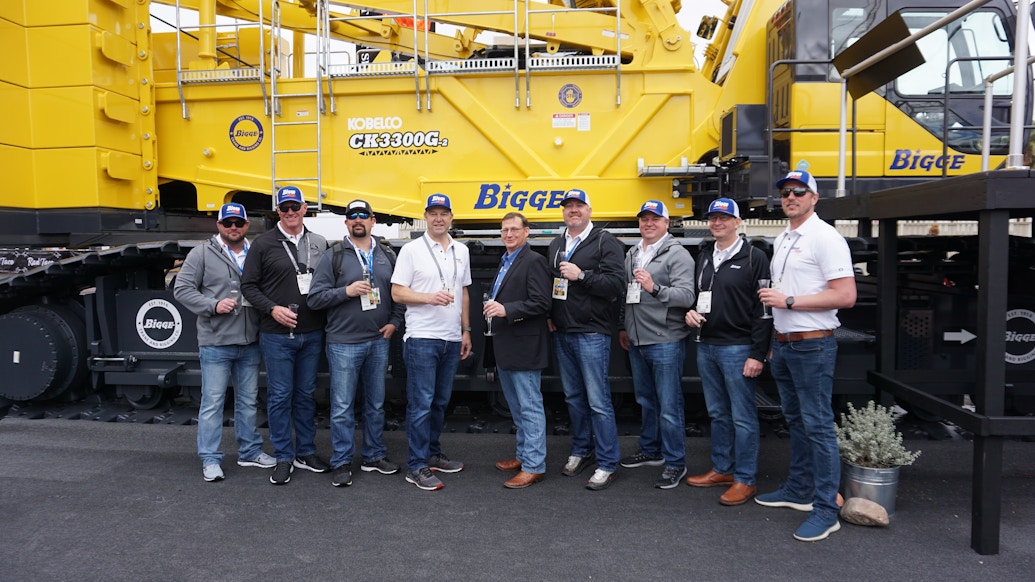 In response to Mr. Fendrick's comments, Mr. Settlemier reciprocated the sentiments in reference to their business partnership.

​"At Bigge we only want to have Perfect Fleet cranes and that is why we continue to buy Kobelco. We bought our first machines back in 2007, and Jack was there from the start and is still here today," said Settlemier. ​"We really appreciate that consistency, it means a lot to me to work with someone who's been in the business over 25 years. My family has been in the business for over 104 years. We're really proud to have our fifth CK3300 in the fleet, and with the order for 20 we placed this morning, we are going to have over 100 Kobelcos. That makes us the largest owner in the country. We're looking forward to continuing on with this partnership."

About the Kobelco CK3300G‑2


With a capacity of 330 US tons the 2020 Kobelco CK3300G‑2 is a lattice boom hydraulic crawler crane known for its cost efficiency and versatility. The CK3300G‑2 is ideal for work in commercial construction, wind power, renewable energy, nuclear power, ports and shipyards. To view its full crane chart or request a quote please visit bigge​.com.

About Bigge

Since 1916, Bigge Crane and Rigging Co. has been the premier provider of crane rentals, crane sales, and specialized heavy lift projects across America. Headquartered in the San Francisco Bay Area in San Leandro, California, Bigge operates a strategic network of 22 additional service locations, allowing them to provide logistical and field support throughout the nation. Bigge has more than 1,800 cranes in its fleet and is a top Kobelco rental provider and dealer for the brand in North America. Driven by core values of safety, teamwork, innovation, results, and passion, Bigge Crane and Rigging Co. is a fourth-generation family owned business that continues to lead the industry into the 21st century.