2019 Demag AC 220-5
All-Terrain Crane For Sale
2019 Demag AC 220-5
All-Terrain Crane for Sale
| | |
| --- | --- |
| Max Cap | 245 US Tons |
| Condition | Used |
| Boom | 255 ft |
| EQT # | ATC245102 |
| Location | Tour This Facility Houston, TX |
| | |
| --- | --- |
| Max Cap | 245 US Tons |
| Condition | Used |
| Boom | 255 ft |
| EQT # | ATC245102 |
| Location | Tour This Facility Houston, TX |
The Demag AC220‑5 is an all-terrain crane with a maximum capacity of 245 tons. It has a maximum boom length of 255.9 feet.
The AC220‑5 is a force to be reckoned with in its division because of the quality parts Demag used to manufacture it. The all-terrain crane is powered by a Scania DC13 engine. This 500 horsepower beast is Tier IV F compliant and can complete any job you ask of it. The fuel tank holds up to 132 lons, so less time is wasted on refueling and more time is spent working at the jobsite.
The transmission system is a ZF AS-Tronic automated gearbox. This gearbox comes standard with an integrated hydraulic retarder, 12 forward speeds, 2 backward speeds, and a 2 stage transfer case with switchable off-road gear. This transmission gives operators the control they need in order to quickly and efficiently maneuver job sites. The dual-circuit steering system with independent rear axle steering gives the operator another layer of maneuverability to the operator when using the AC220‑5.
he AC220‑5 also pays special attention to the cab and the Demag team listened to operators'when designing the AC220‑5. The cab is equipped with tinted safety glass for every window. The tint protects the operator from the sun's rays and the safety glass protects them from debris and other possible safety hazards. The AC220‑5 also includes a heater. Many jobs that require a crane like the AC220‑5 go on for an extended period of time. For this reason, many times a project must continue to be worked all throughout the year. The heating unit in the cab allows for operators to continue working, even in extreme conditions.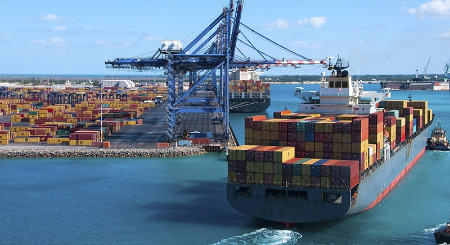 Bigge works with experienced logistic partners to handle shipping of our equipment to our customers and partners.
They have the knowledge and expertise to handle project cargo and deliver your equipment anywhere in the world. Our partners can accommodate any special considerations for large size and heavy machinery, inland and ocean freight and project management. This includes legal forms, customs paperwork and other issues that may arise until your equipment reaches the port of destination.
When you purchase equipment with Bigge, you have peace of mind that it will be handled by logistics professionals, and will arrive safe to your destination.
Can't find what you're looking for?
Get in touch with a Bigge representative now - we're just a phone call away!
Contact us