2012 Demag AC 500-2
All-Terrain Crane For Sale
2012 Demag AC 500-2
All-Terrain Crane for Sale
| | |
| --- | --- |
| Max Cap | 600 US Tons |
| Condition | Used |
| Boom | 184 ft |
| Luffing Jib | 295 ft |
| EQT # | ATC600151 |
| Location | Tour This Facility Houston, TX |
| | |
| --- | --- |
| Max Cap | 600 US Tons |
| Condition | Used |
| Boom | 184 ft |
| Luffing Jib | 295 ft |
| EQT # | ATC600151 |
| Location | Tour This Facility Houston, TX |
The Terex/​Demag AC 500 – 2 is an all-terrain crane with a maximum lift capacity of 600 tons. The maximum height of the boom is 184 feet and the maximum jib height is 308 feet.
The carrier frame is a Demag-built special main frame of high strength, fine-grain structural steel with a pot-shaped center section and foldaway outrigger boxes. The outrigger system is made up of four points. The outrigger beams fold into and out of the frame with full hydraulic extension vertically and horizontally. An outrigger loading indicator is included; giving the operator the ability to know exactly when the outriggers are fully extended and other tasks can be completed.
The carrier engine is a water cooled, 8 cylinder, Tier III compliant DaimlerChrysler OM 502 LA rated at 653 horsepower. The superstructure, also constructed by DaimlerChrysler is the OM 906 LA model, and is rated at 279 horsepower.
The transmission system is an Allison type CT 755. This transmission comes with an electronic transmission controller, a torque converter, and a hydraulic retarder. Dual circuit semiblock mechanical steering, paired with a hydraulic booster, give the operator the ability to easy maneuver the Terex AC 500 – 2 through the jobsite. The brake system is composed of a sustained action brake in the form of a constant decompression valve, an exhaust brake, and a hydraulic retarder integrated into the gearbox. The hydraulic system is powered by 5 hydraulic circuits. There are 4 main pumps for independent control movements, 1 pump for auxiliary circuits, and one control pump for the servo control.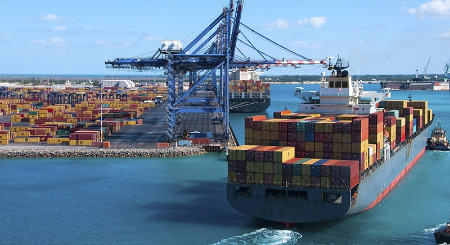 Bigge works with experienced logistic partners to handle shipping of our equipment to our customers and partners.
They have the knowledge and expertise to handle project cargo and deliver your equipment anywhere in the world. Our partners can accommodate any special considerations for large size and heavy machinery, inland and ocean freight and project management. This includes legal forms, customs paperwork and other issues that may arise until your equipment reaches the port of destination.
When you purchase equipment with Bigge, you have peace of mind that it will be handled by logistics professionals, and will arrive safe to your destination.
Can't find what you're looking for?
Get in touch with a Bigge representative now - we're just a phone call away!
Contact us