2023 Kobelco CK1600G-3
Crawler Crane For Sale
2023 Kobelco CK1600G-3
Crawler Crane for Sale
| | |
| --- | --- |
| Max Cap | 160 US Tons |
| Condition | New |
| Boom | 200 ft |
| Fixed Jib | N/A |
| Luffing Jib | N/A |
| Winches | 2 |
| EQT # | CCC160624 |
| Location | Tour This Facility Sweetwater, TX |
Additional boom and jib configurations may be available.
| | |
| --- | --- |
| Max Cap | 160 US Tons |
| Condition | New |
| Boom | 200 ft |
| Fixed Jib | N/A |
| Luffing Jib | N/A |
| Winches | 2 |
| EQT # | CCC160624 |
| Location | Tour This Facility Sweetwater, TX |
The all-new Kobelco CK1600G‑3 is a powerful, efficient hydraulic crawler crane with lift capacity of 160 US tons. Built on its predecessor, the acclaimed CK1600G/CK1600G‑2, this 2023 upgraded model offers even greater reliability, safety level, operator comfort and ease of operation for maximum efficiency and productivity at the job site.
Kobelco created the CK1600G‑3 with pre-existing owners in mind, equipping it with compatible booms and jibs to facilitate smooth fleet expansion.
CK1600G‑3 features an upgraded, larger ergonomic cab, with larger windows for improved visibility and increased jobsite safety, and reduced vibration during operation. Kobelco also added USB Port, radio and Bluetooth speakers to the cab to cater to the operators.

The CK1600G‑3 incorporates Kobelco's exclusive G‑Mode system, providing up to 30% increased fuel efficiency and reduced emissions compared with conventional cranes. This new model features ISUZU 6UZ1 Engine, while earlier models CK1600G/-2 are equipped with a Tier IV Hino P11VC 363 engines, making this upgraded model even more powerful and efficient. Kobelco is the warranter for ISUZU 6UZ1 Engine, while Hino engine is warrant by a 3rd party. New engine does not require diesel particulate (DPF) filter thanks to it's USES SCR System. Operators can now easily reset error codes by simply rebooting the engine without having to use ISUZU software tools. In addition, ISUZU 6UZ1 Engine features breather design, that resist freezing and clogging.
Console mounted controls empower precise, incremental maneuverability of the rear drum and boom hoist. Embedded free fall activation switches and drum indicators make operation even simpler. The G winch offers maximum line speed at a lower engine rate enabling quick elevation or lowering without increasing power output. All drums are conveniently grooved for 26mm wire rope with an impressive 902 feet working length capacity expanding to 1148 feet in storage mode. Dependent two-speed hydraulic propel drives provide drive force while individual crawler assemblies come equipped with easy disconnects further optimizing user experience and accessibility.
Kobelco also added function control levers, and winch speed controls to it's CK1600G‑3 model.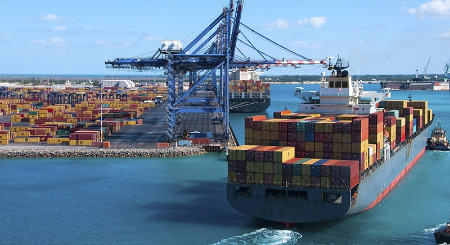 Bigge works with experienced logistic partners to handle shipping of our equipment to our customers and partners.
They have the knowledge and expertise to handle project cargo and deliver your equipment anywhere in the world. Our partners can accommodate any special considerations for large size and heavy machinery, inland and ocean freight and project management. This includes legal forms, customs paperwork and other issues that may arise until your equipment reaches the port of destination.
When you purchase equipment with Bigge, you have peace of mind that it will be handled by logistics professionals, and will arrive safe to your destination.
Can't find what you're looking for?
Get in touch with a Bigge representative now - we're just a phone call away!
Contact us