2005 Tadano GR-600XL
Rough Terrain Crane For Sale
2005 Tadano GR-600XL
Rough Terrain Crane for Sale
| | |
| --- | --- |
| Max Cap | 60 US Tons |
| Condition | Used |
| Engine | Mitsubishi 6D16-TLEE |
| Boom | 138 ft |
| EQT # | RTC60150 |
| Location | Tour This Facility San Leandro, CA |
| | |
| --- | --- |
| Max Cap | 60 US Tons |
| Condition | Used |
| Engine | Mitsubishi 6D16-TLEE |
| Boom | 138 ft |
| EQT # | RTC60150 |
| Location | Tour This Facility San Leandro, CA |
The Tadano GR-600XL is a hydraulic rough terrain crane. Thoughtfully designed components combined with the latest technology and durable material this crane is versatile and intuitive to handle.

The GR-600XL‑1 has a max. lifting capacity of 54.4 metric tons (60 U.S. tons) and the max. boom length is 42 m (137.79 ft). With a max. lift height of 34.9 m (114 ft), this model has a two-stage bi-fold lattice-type jib that can be attached giving the crane a max. lift height of 59.7 m (195 ft). Composed of 5 sections, a full power partially synchronized telescoping boom, and rectangular box construction with 4 sheaves at the boom head. An auxiliary lifting sheave (single top is mounted to the main boom head for single-line work (stowable).
The hydraulics system pump consists of 2 variable piston pumps for crane functions. A tandem gear pump for steering, slewing, and optional equipment. Powered by a carrier engine. Pump disconnect for the crane is engaged/​disengaged by a rotary switch from the operator's cab. The slewing ring uses a hydraulic axial piston motor driven through a planetary slewing speed reducer that allows continuous 360˚ full-circle slewing on a ball-bearing. Outriggers come with this crane, 4 hydraulic, beam, and jack outriggers can be safely deployed asymmetrically. The AML‑E system detects extension and provides maximum lifting capacity for the surrounding area of the crane.
This crane features a turbo-charged Mitsubishi 6M60-TLA3B 6 cylinder diesel engine, pushing 267 HP at 1,400 RPM. Equipped with hydraulic power steering controlled by the steering wheel. 4 steering modes are available: 2 wheel front, 2 wheel rear, 4 wheel coordinated, and 4 wheel crab.
Both the crane and drive operations can be performed from one cab mounted on a rotating superstructure. Standard is a TADANO electronic Load Moment Indicator system (AML‑E), letting the operator know with indicators, warnings, and functions in real-time.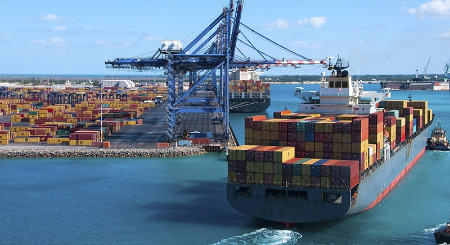 Bigge works with experienced logistic partners to handle shipping of our equipment to our customers and partners.
They have the knowledge and expertise to handle project cargo and deliver your equipment anywhere in the world. Our partners can accommodate any special considerations for large size and heavy machinery, inland and ocean freight and project management. This includes legal forms, customs paperwork and other issues that may arise until your equipment reaches the port of destination.
When you purchase equipment with Bigge, you have peace of mind that it will be handled by logistics professionals, and will arrive safe to your destination.
Can't find what you're looking for?
Get in touch with a Bigge representative now - we're just a phone call away!
Contact us