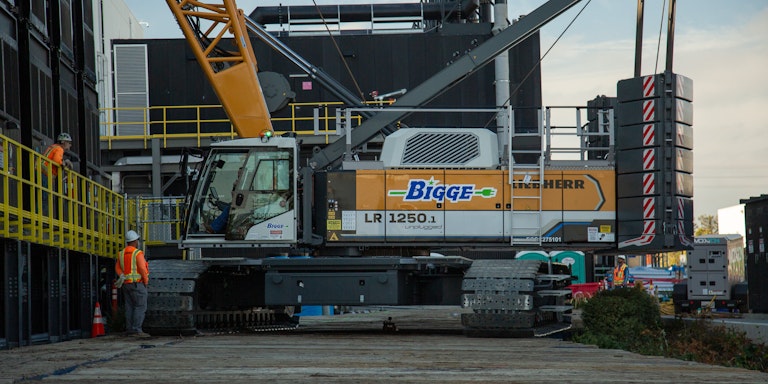 Zero Emission Crane Signals a Greener Future in Construction for Bigge
In its constant pursuit of innovation, Bigge recently announced the purchase of the first electric crawler crane in California: the Liebherr LR 1250.1 unplugged. This zero-emission electric crawler crane marks a pivotal moment in Bigge's commitment to a greener future for construction.
As concerns about climate change intensify, construction companies are increasingly pressured to adopt eco-friendly building practices. To help partner with our customers, Bigge signed a deal with Liebherr to purchase the new electric crane very early in their development cycle. Now delivered to Bigge's location in San Leandro, CA, the crane has already been put into service and is earning high regard from customers, operators, and the Bigge team.
What makes this crane so unique? Let's dive into some of the details of what makes the future of electric heavy lift equipment so exciting.
Get Hands On!
You're invited to join us for a demo presentation of our new electric crawler. Plus, BBQ lunch and swag is on us!
When: Nov 30, 2023 from 11:30 AM - 1:30 PM
Where: 10700 Bigge Ave, San Leandro, CA 94577
RSVP Now
Zero Local Emissions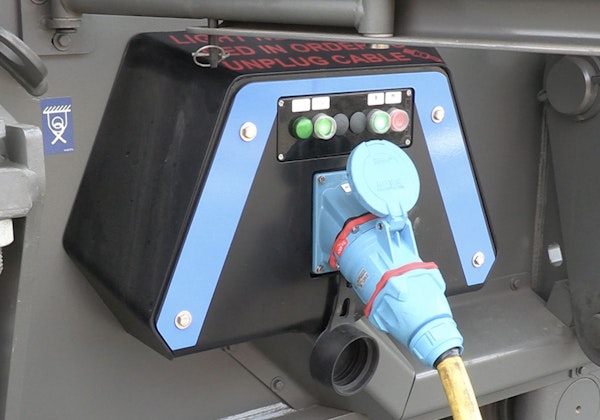 The LR 1250.1 unplugged has a unique advantage over its diesel counterpart of emitting zero local emissions at its jobsite. Not only does this allow the crane to reduce its overall environmental impact, but it also allows it to operate in emission-sensitive areas like major cities or confined areas with limited airflow.
Doesn't Charging Use Fossil Fuel? How's That Zero Emissions?
Not necessarily. The LR 1250.1 unplugged can be charged (or operated) off of shore power being supplied from the power grid. Traditionally, the power grid would mean burning fossil fuels; however, California is leading the nation towards a 100 percent clean energy future by 2045.
As of 2022, California's Power Mix was at 54.23% Non-GHG and Renewable power sources (wind, solar, hydro, etc.), which means using the electric grid to charge electric equipment is cleaner than ever and is fast becoming 100% renewable.
Source: https://www.energy.ca.gov/data-reports/energy-almanac/california-electricity-data/2022-total-system-electric-generation
What About Charging Off The Grid?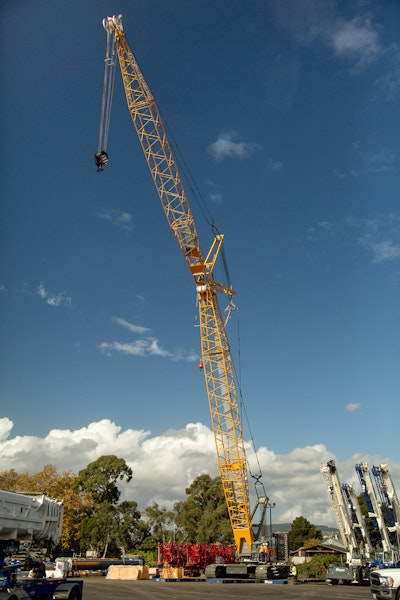 The "go-to" for off-grid charging is diesel generation; while possible, that would defeat the point of being a zero-emissions crane.
In further pursuit of a clean energy future, Bigge has committed to installing several significantly sized solar arrays at our San Leandro headquarters in early 2024. These arrays will not only help power our facility with clean energy but they will also be used to charge our electric equipment on site. This array will generate an average of 23,000 kWh of power monthly.
Additionally, Bigge has partnered with Moxion Power, a pioneer in mobile energy storage products, to facilitate recharging the electric crane onsite where shore power is unavailable. These mobile units can be charged remotely and used to extend the already impressive 8-hour battery life of the LR 1250.1 unplugged.
Significant Noise Reduction
One of the amazing advantages of the Liebherr LR 1250.1 unplugged's electric powertrain is its significantly reducing jobsite noise emissions.
Without the need to run a motor to operate its core functions, the crane is virtually silent while idling between picks. Operators can continue to use their monitors and run climate control in the cab while the unit remains silent. While in operation, the crane is still incredibly quiet compared to its diesel counterpart, emitting <101 dBA of noise pollution, a maximum level comparable to running a household blender.
This characteristic further strengthens this crane's use case in metropolitan areas where noise sensitivity is a factor in heavy-lifting applications. Additionally, it increases the overall jobsite safety for operators and riggers as they communicate and work in close proximity to the crane.
Uncompromised Capability
Despite the demand for a greener future for construction, what must be simultaneously protected is the functionality, capability, and reliability of the equipment put into service. The LR 1250.1 unplugged matches its diesel counterpart at every specification and retains the reliability that has come to be expected from Liebherr.
At 275 US tons lifting capacity, a maximum hoisting height of 485 feet, and a maximum radius of 319 feet, the LR 1250.1 unplugged is a powerhouse for any jobsite. This new electric crane features the latest and greatest technology from Liebherr to ensure safety, comfort, and consistent service availability.
What's Next?
As Bigge aims to continue its over 107 years of innovation in the heavy lifting and construction spaces, we will continue to strive to provide our customers with the Perfect Fleet™, the best people, and to be a trusted partner. We're excited to be at the forefront of our space and pushing for a new wave of zero-emission, green construction solutions.
You're Invited!
We invite you to celebrate with us on November 30, 2023 from 11:30 AM - 1:30 PM. We'll be putting on a demonstration of this amazing new crane as well as hearing from our partner, Moxion Power, about their exciting innovations in power storage technology. Plus, BBQ lunch and swag pack is on us!