Bigge Receives Numerous Awards for Milestones at Bauma 2016
Company News |
Bigge Crane and Rigging Co. was pleased to be recognized by six manufacturers in our centennial year.
LIEBHERR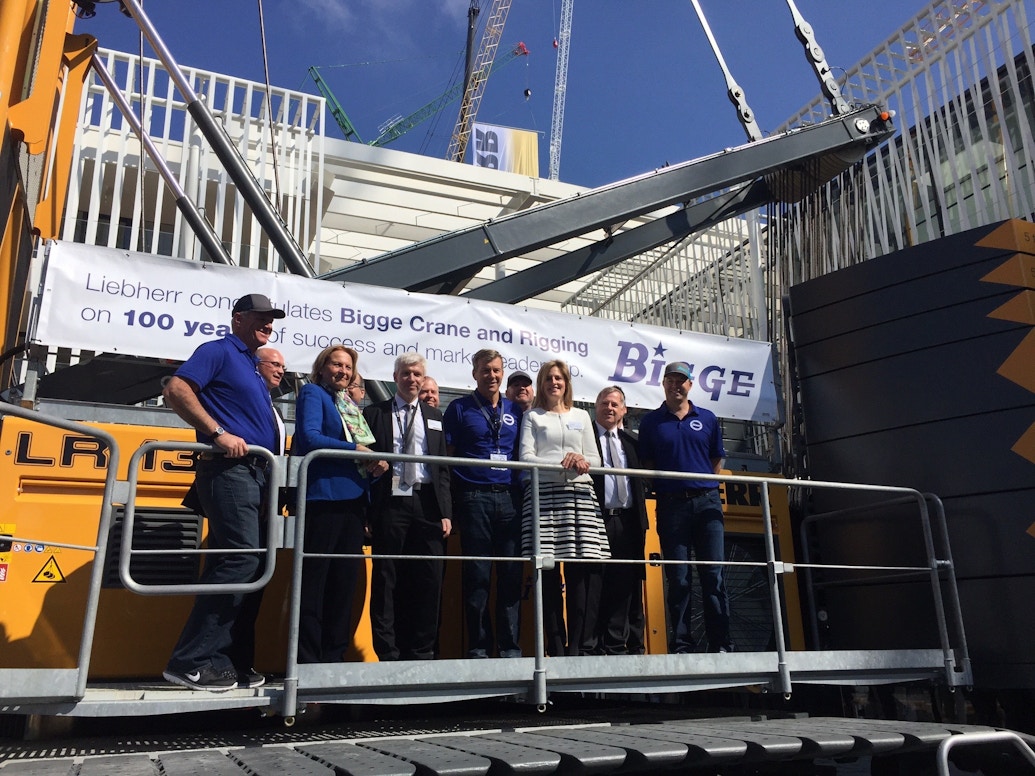 In honor of Bigge's Centennial Year, Liebherr spoke about our trusted and long-standing partnership at a presentation with Weston Settlemier, Bigge President and CEO, along with the Bigge team. Standing in front of Liebherr's powerful LR 1300 crawler (hyperlink LR1300 sales), Liebherr shared how Bigge influenced the design phase of the LR1300, and, in demonstrating Bigge's trust with Liebherr, placed advanced orders on the crawler crane before the model was out in the market. Today, Bigge is honored to be recognized by Liebherr as the world's largest LR 1300 crawler crane owner.
See a video of the presentation by Holger Streitz, Managing Director of Liebherr werk Nenzing GMBH and Gernot Schranz, President of Liebherr Nenzing Crane Company below:
Manitowoc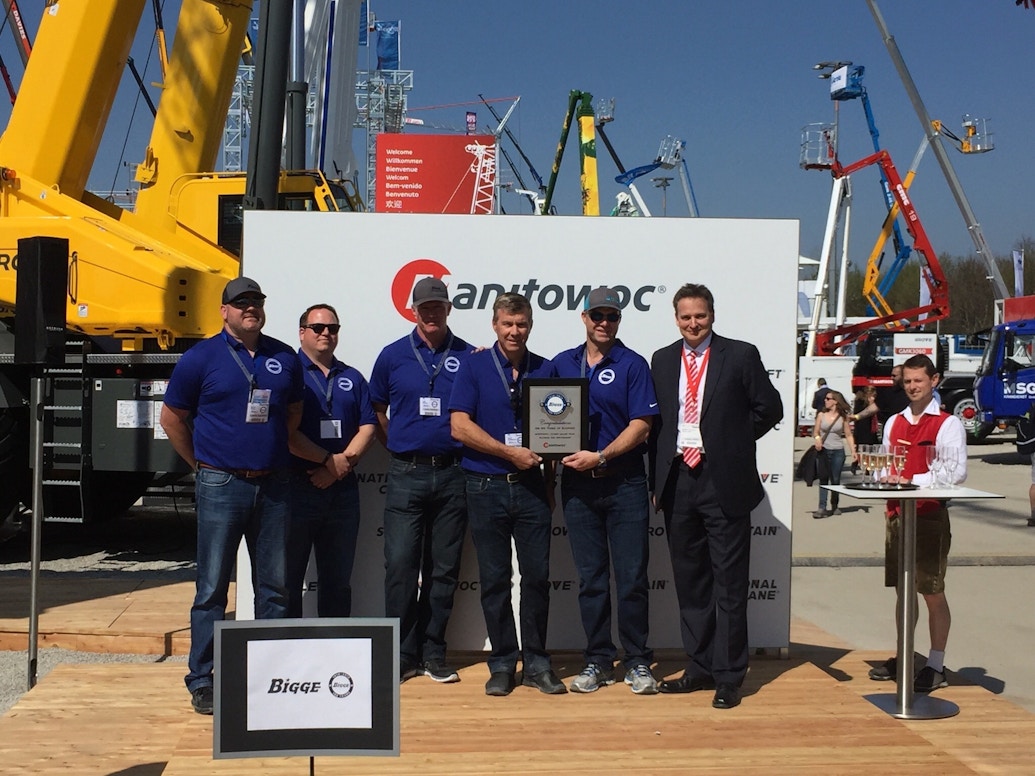 While commemorating Bigge's ownership of 100 Manitowoc cranes and 12 Potain Igo tower cranes, Manitowoc presented a salute to Bigge's 100 Year Centennial. The Manitowoc team was on hand to present an award acknowledging this unique company milestone to Weston Settlemier.
ALIMAK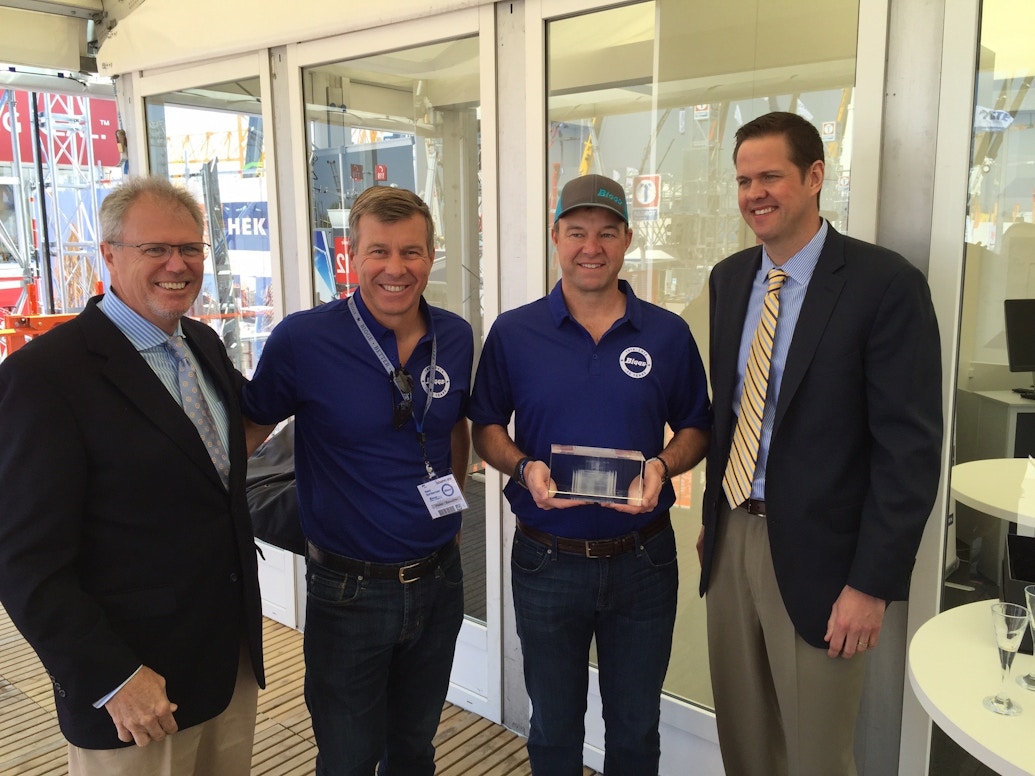 In honor of Bigge's Centennial Year and the ownership of 100 construction hoists, Alimak presented a special Bigge Century Award. Bigge is proud to offer Alimak hoists to our customers, and recently added the Alimak Scando 650 and 450 models to our growing, high-demand hoist inventory.
TEREX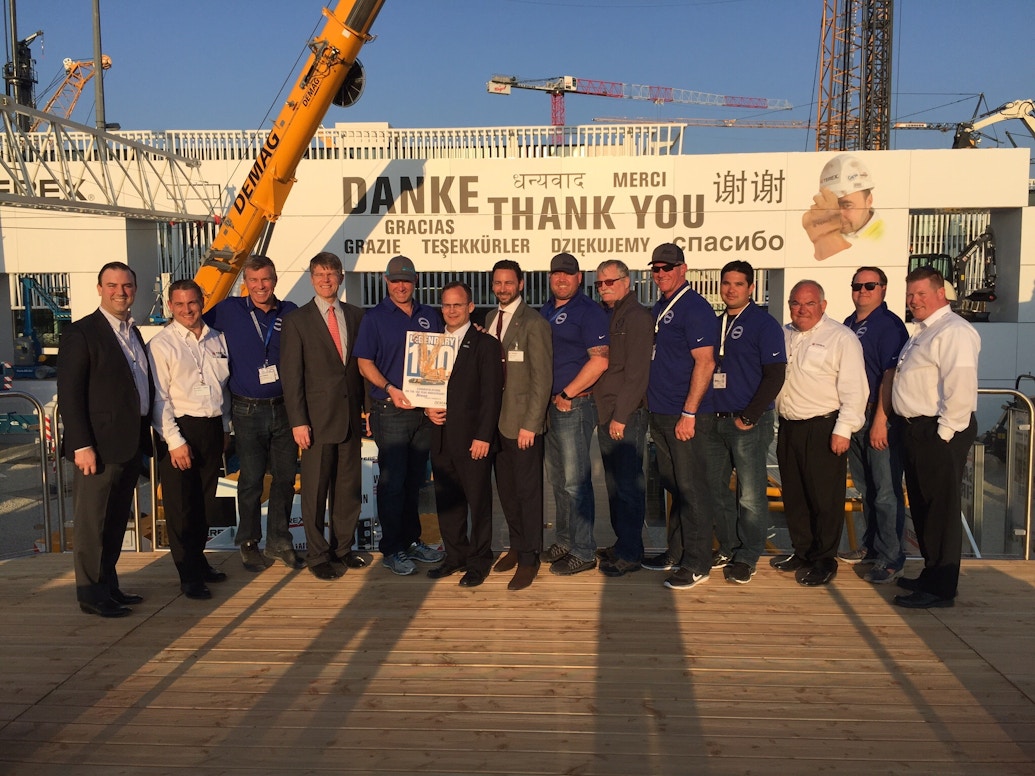 As the world's largest Terex dealer, Bigge was honored by the Terex Corporation as Bigge marked several legendary ​'100' milestones. In addition to celebrating Bigge's historical 100 Year Centennial, Terex also saluted Bigge on the ​"100 by 5" achievement – recognizing Bigge's purchase of over 500 Terex cranes to date.
KOBELCO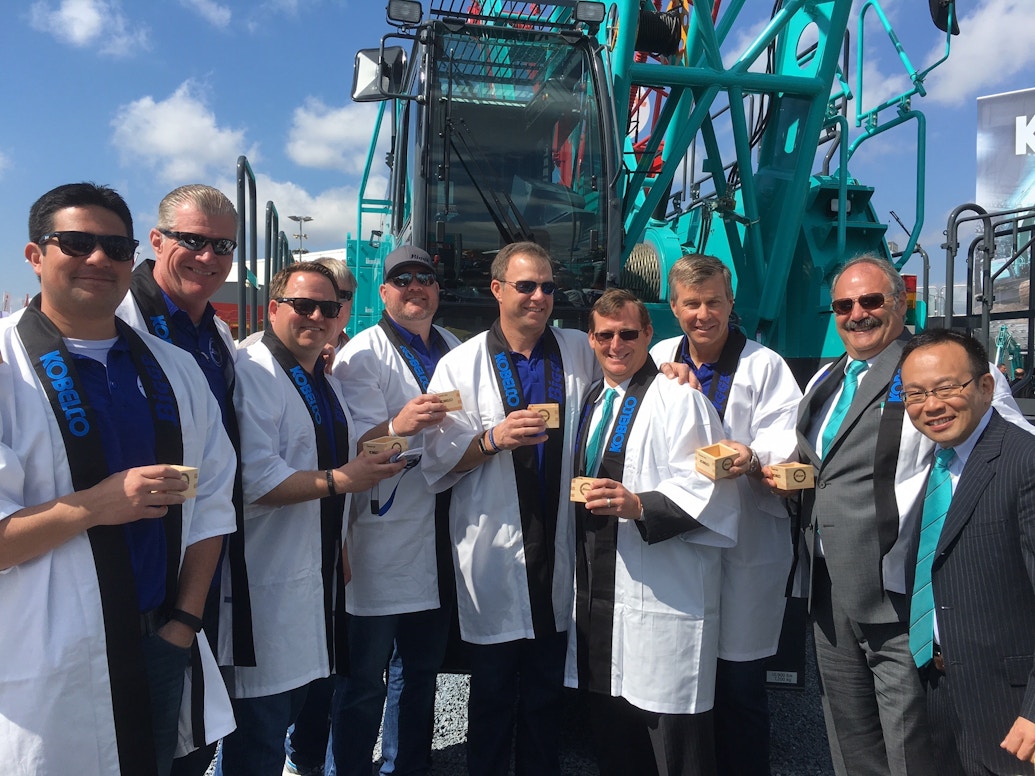 As Day 2 of Bauma 2016 kicked off, Bigge celebrated the success of our partnership with Kobelco with a presentation at their booth. Since 2008, Bigge has purchased 100 cranes from Kobelco, including our 25 crawler crane purchase in 2014.
TADANO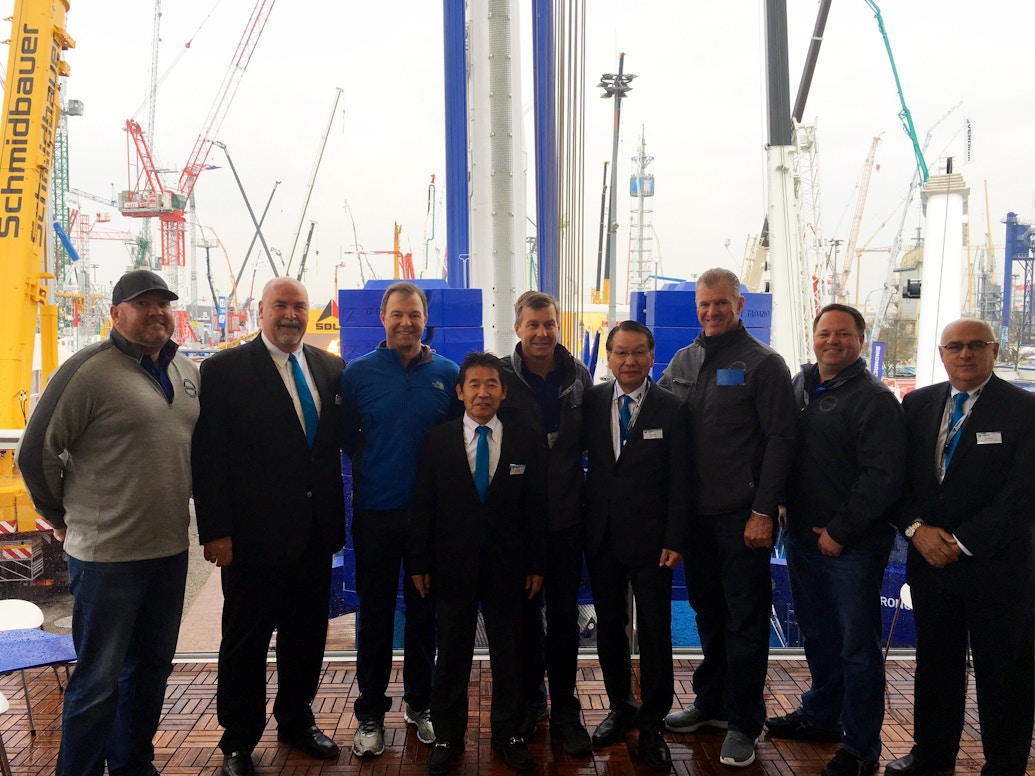 The Bigge and Tadano teams came together to celebrate Bigge's Centennial Year, and took a moment to recognize Bigge's unique position as a fourth-generation, family run business. In addition to Bigge's longevity, Tadano celebrated the delivery of the 100th Tadano crane purchased by Bigge.
Buying Big at Bauma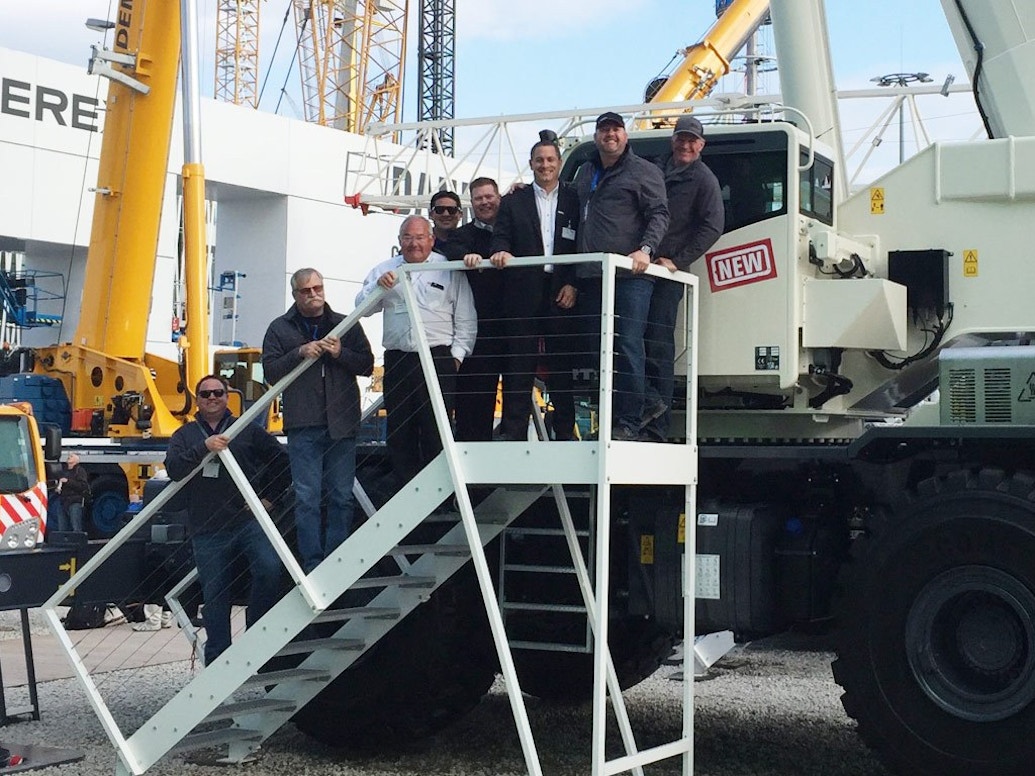 Following our 2015 Terex Service Award and Centennial Recognition Ceremony, Bigge purchased 12 new Terex RT90's. The newly designed Rough Terrain features a capacity of 90 US tons and 154 feet of main boom. This versatile crane's IC‑1 control system delivers cutting-edge technology, providing the best return on your investment. We are thrilled to add these RTs to our extensive fleet to continue serving our customers with the best equipment for their jobs.