Bigge Helps Build New Airport Terminal in New Orleans
Cranes at Work |
For the last five months, Bigge has out on rent a Liebherr LR1160 crawler crane and a Grove RT880E rough terrain crane to LPR Construction for the building of a new terminal at New Orleans' Louis Armstrong International Airport in Kenner, Louisiana.
The new 972,000-foot terminal, consisting of 35 gates and a 2,190-car parking garage, is being built to accommodate the city's tourism market and is slated to open in early 2019.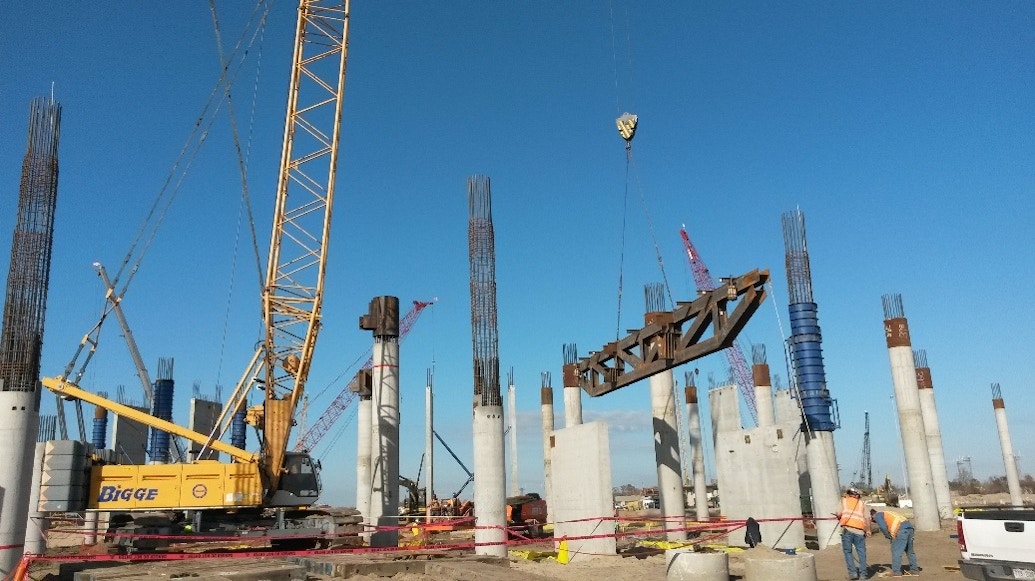 The Liebherr LR1160 is being used to set steel while operating within the airport's strict height requirements. For this project, the crane was configured with 84' of main boom and 113' of luffing jib, lifting two 9,100 lb. steel collars and a truss that is 6' deep and 66' long. The truss weighed 39,000 lbs. and was picked to 75 feet. A Liebherr crane was chosen for this job because it is the only crane manufacturer that allows you to use the luffing jib with the main boom at a 45° angle. The LR1160 will continue work at the Louis Armstrong Airport till the end of April 2017.