Bigge Transports Wind Farm Components in Oklahoma
Cranes at Work |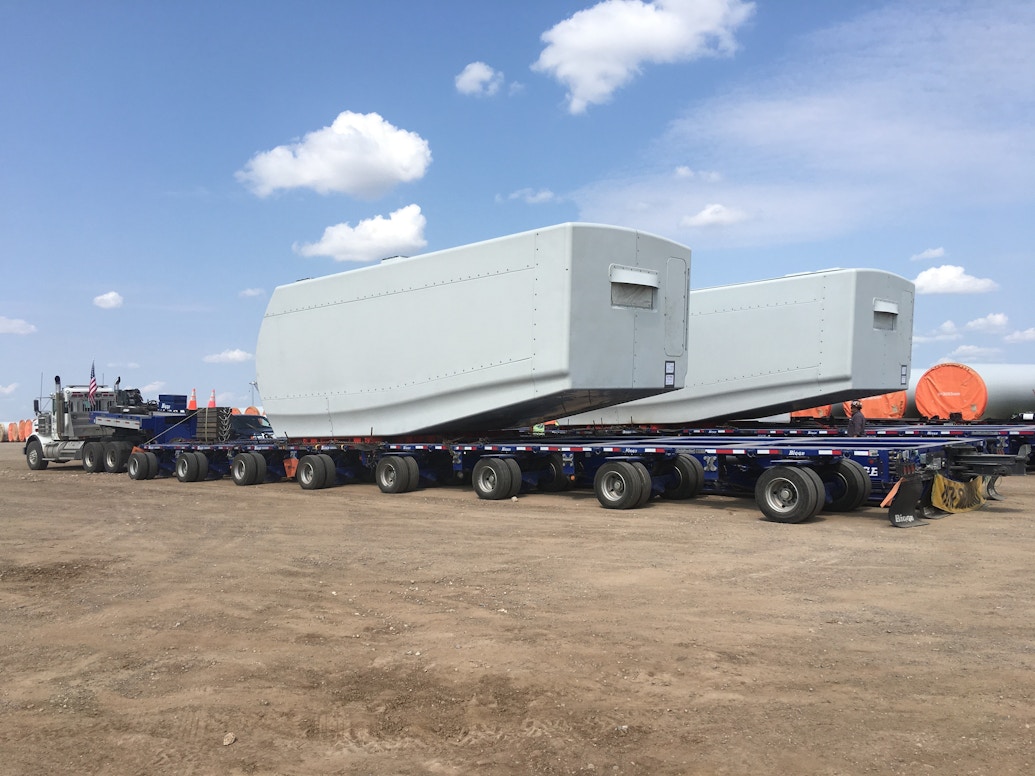 Bigge helps building windfarms all around the country. Our services include not only crane work, but also storage and transportation of components. A couple months ago, Bigge was contracted for a large project involving over-the-road transport of 95 wind turbine nacelles from the Port of Houston to a wind farm in Oklahoma. Nacelles, the large structures at the top of a wind turbine tower, house key components including the rotor shaft, gearbox, and generator. The first lot was delivered in August of 2017 with a schedule of six to eight deliveries per week to the remaining pad sites. After careful evaluation and considerations of routes, the project plan switched to transporting the components by rail. The nacelles arrived via steamship to the Port of Houston, then transported by rail to Enid, Oklahoma, for delivery.

As a result of the re-planning, the job involved the provision of three 8‑line dual-lane hydraulic transporters equipped with hydraulic goosenecks, a 500-ton four post hydraulic gantry, and two 8‑line THP transporters towed by prime movers. The Bigge convoy transported the components 30 miles from the distribution center to the lay down facility on-site. The convoys were able to transport three pieces at a time with special assistance from a bucket truck, state and local police, and civil escorts. Each transport job took approximately three hours. Upon arrival, the Bigge team positioned each transporter under an awaiting 500-ton hydraulic gantry. This prepared for the transloading of each nacelle from the over-the-road transporter to the THP trailer and onto the prime movers. This specific chain of transloads utilized the hydraulics of the gantry since each nacelle weighed approximately 250,000 pounds, and needed to be lifted a few feet in the air in order to be placed on the THP hydraulic transporters. Once each nacelle was loaded and secured to the THP transporter, Bigge convoyed up to four miles from the lay down facility. Using carefully considered backroads, the nacelles were delivered and offloaded at the designated turbine pad sites. During the erection of each wind turbine, each nacelle was lifted 200 feet in the air for final assembly and operation.
Completing heavy transport jobs like these require very careful logistics, management, and flexibility. In this particular case, the bureaucratic process involved in obtaining proper road permits in Texas and Oklahoma proved challenging since the deadlines for the jobs were tight. Overall, the Bigge team pulled through and the project was a total success.