Bigge's Expertise Comes Through for Tuolumne County Tri-Dam Bridge Repairs
The Tri-Dam Project is a partnership between two Northern California irrigation districts, operators of the Beardsley Dam. Located on the Middle Fork of the Stanislaus River in Tuolumne County, California, sections of a bridge over a spillway had previously been removed by Bigge crews to prevent damage from high water flow during heavy winter storms and spring runoff. The districts are now preparing for future storms for the last few months of the year and have begun to schedule the ongoing maintenance of the dam and the area surrounding it.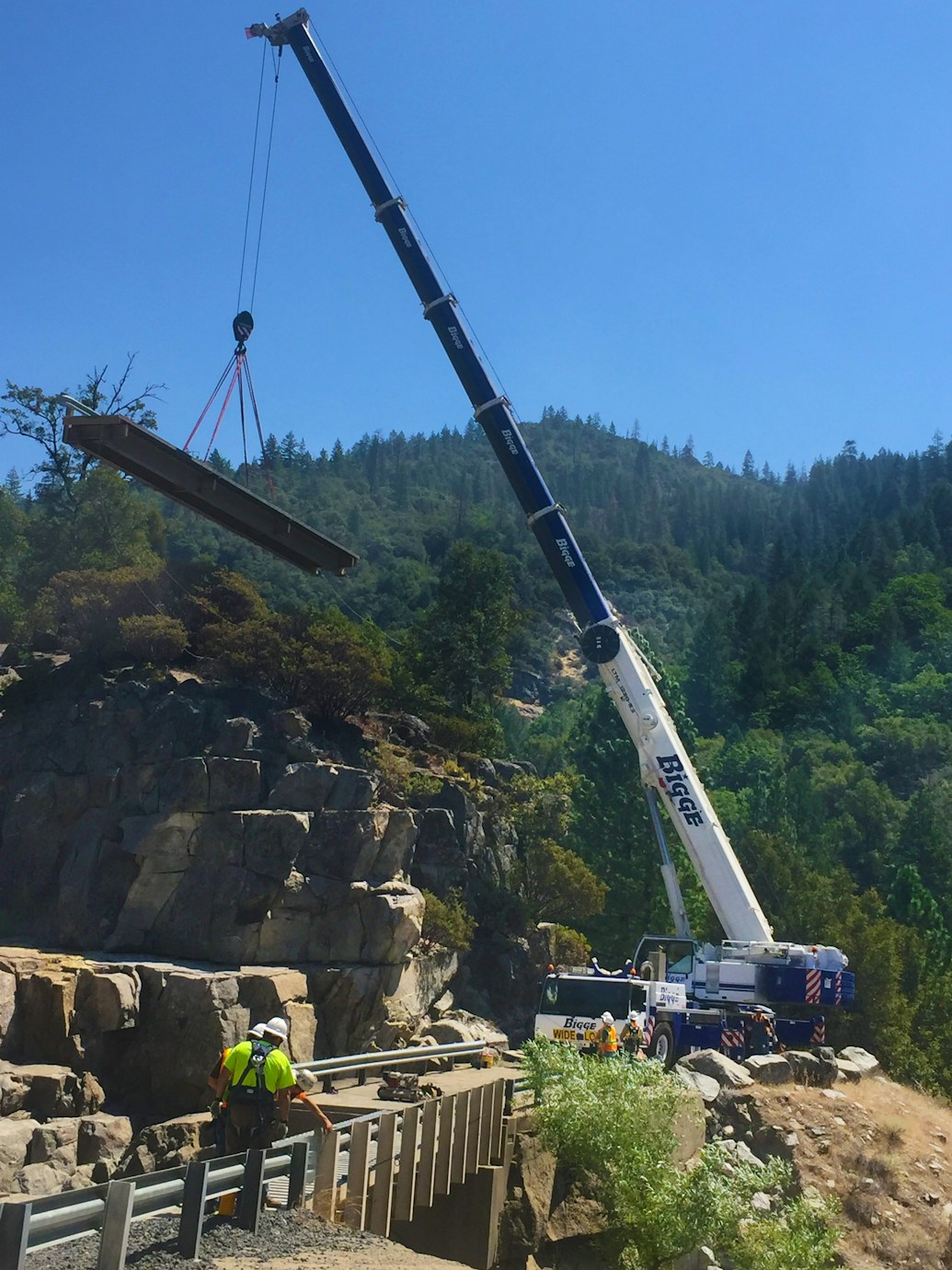 Bigge was called back to the job site in August, 2017 to install the replacement sections utilizing a Liebherr LTM1220. This all terrain crane has a load capacity of 265 tons, and is equipped with the variable chart option, crucial in executing this lift. Working within a limited space footprint necessitated a mid-outrigger setup, the 25,000-pound lift required a full outrigger chart to set the bridge sections. With the lifts taking place over the front end of the crane, adjustments were automatically made through the LMI computer, adjusting the crane's capacity as the load was swung from the trailers carrying the bridge sections into place on the bridge structure. The unique characteristics and capabilities of this crane enabled a safe and efficient lift during circumstances that did not allow full outrigger extension. The removal of the sections was done in a timely fashion. The Bigge team is proud to be of service and looks forward to continued collaborations.
Curious about our rental services? Visit our equipment rentals dedicated page and learn more about our offerings.