Enerpac Equipment Crucial in Transport of Combined Cycle Power Plant Components
Cranes at Work |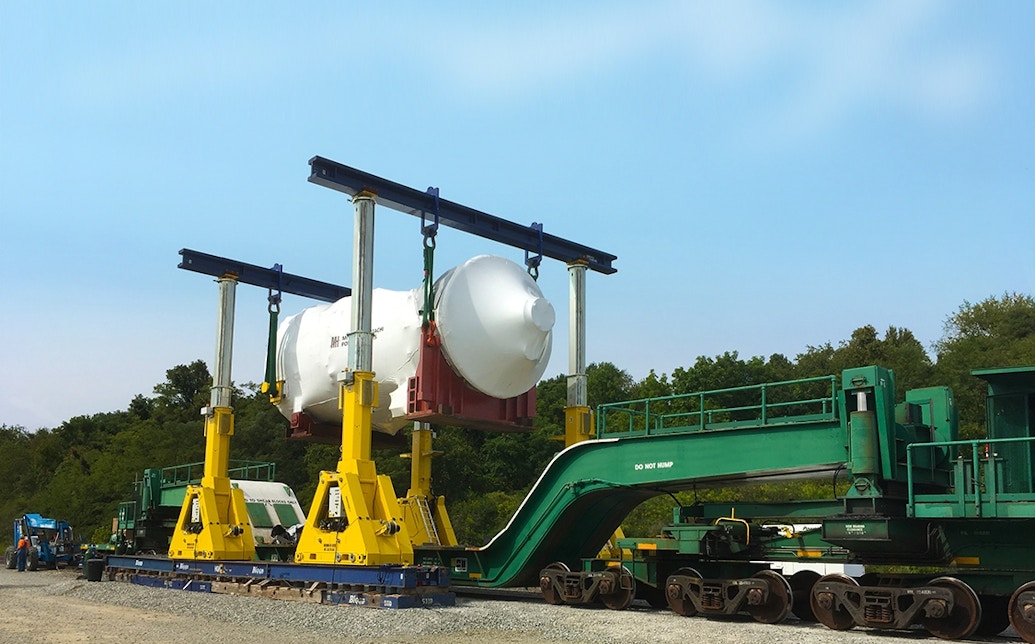 Bigge has been on a four-month project transporting steam turbines, combustion gear, and heat recovery steam generators (HRSG) for a new combined cycle power plant being built in Western Pennsylvania. The new plant, located in Westmoreland County, is destined to have a capacity of 925 MW of electricity — enough power to supply 925,000 homes. For this project, Bigge utilized a 2,500-ton capacity river barge, a 900-ton Enerpac SBL900 Gantry, and a 16-line THP Goldhofer to move the components.
The transport began at Belle Vernon, Pennsylvania, where the barge was docked. Bigge transloaded the components to a hydraulic transporter, followed by a gantry which then was transloaded to a depressed deck rail car. A steam turbine, weighing approximately 749,000 lbs., is a device that extracts thermal energy from pressurized steam. Other components transported in this job include combustion gears weighing 650,000 lbs. and HRSGs weighing 480,000 lbs. After the transload, all components were then transported to Mount Pleasant, and transloaded once more to the plant's site in Westmoreland.

Several obstacles were encountered during this job, including terrain grades and load weights. The Bigge team cleared the hurdles by moving all components weighing over 900,000 pounds slowly with four prime movers over grades of up to 18%. The project was completed in October 2017.