Bigge Helps Bring BART to Oakland International Airport
Press Releases |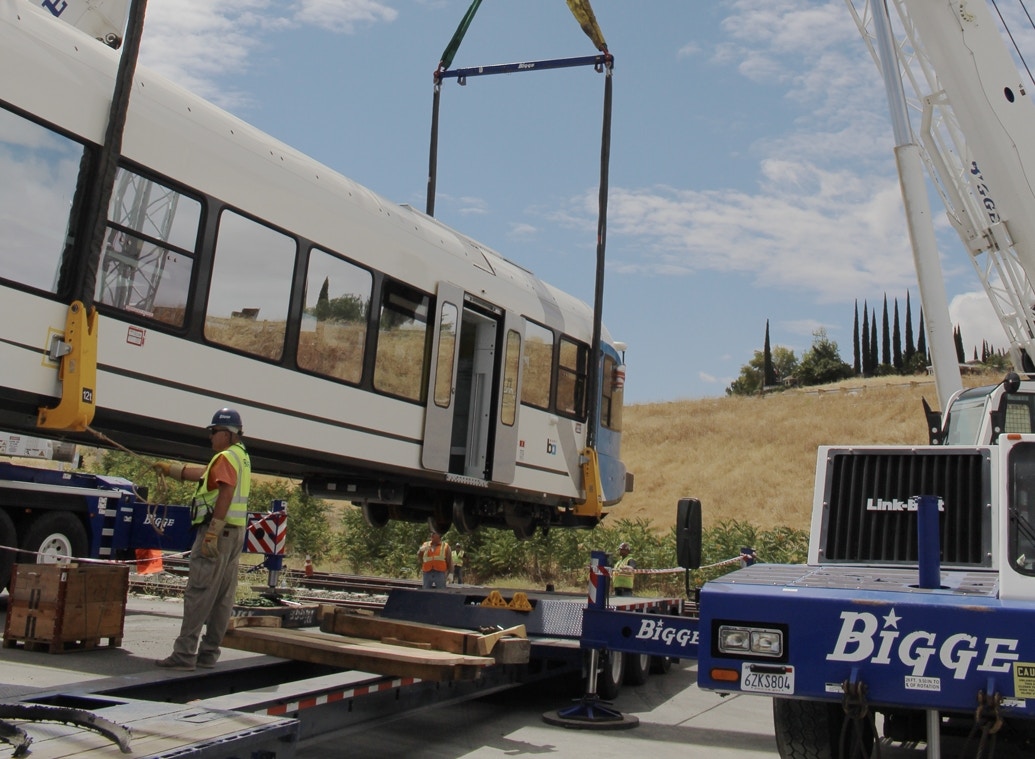 With the help of Bigge Crane and Rigging, BART trains will finally run directly to Oakland International Airport, the final link in a project first conceived as long ago as the 1970s. The BART Oakland Airport Connector is a 3.2 mile BART route connecting the Coliseum station and Oakland Airport. Bigge worked on the above-ground section of the route, lifting the track sections and fixing them to the concrete towers lining Hegenberger Rd.
Bigge operated a Grove GMK6350 with 124′ of boom and 220,400 pounds of counterweight to lift the track trestles into place on the concrete towers. Each trestle section weighed 130,000 pounds and was nearly the length of a football field. The trestle sections were brought in on a trailer Bigge operated and were lifted, rotated, and set on the concrete columns along the route. In addition to the GMK6350, Bigge operated a Link-Belt HC86100 that was used to assist with other facets of the project.
BART, Bay Area Rapid Transit, is a popular public transportation train system, not unlike New York City's subway, that runs to San Francisco International Airport, along with all over San Francisco and the East Bay. Prior to the track running to the airport, fliers attempting to take BART to Oakland International would have to board a bus at the nearest BART station, sometimes taking up to 30 minutes to arrive at the airport. The BART Connector Project is one part of a $350 million dollar makeover of Oakland International. It is expected to start operating in Spring of 2014.
"With Bigge's history of involvement in almost every major civil infrastructure project in the East Bay, we were honored to work on this project so close to our centennial anniversary", said Joe Nelms, VP of Sales and Marketing.
About Bigge
Since 1916, Bigge Crane and Rigging Co. has been the premier provider of best-in-class cranes. Bigge offers crane rentals, cranes for sale, crane parts, and specialized heavy lift equipment to customers across America. With headquarters in California and Texas, Bigge operates a strategic network of over 20 service locations nationwide, allowing them to provide logistical and field support throughout the United States. Bigge actively buys and sells new and quality used cranes and maintains a rental fleet of more than 1,800 assets. Safety, teamwork, results, innovation, and passion are central to Bigge's core values. Bigge continues to lead the crane industry into the 21st century with generations of combined experience in the crane and rigging industry.