Bigge Announces Tadano Equipment Sales Market Expansion
Nov 13 2017
Bigge Crane and Rigging Co. reveals expansion of their Tadano Equipment sales markets during a company meeting in Texas.
Houston, Texas- Nov. 13, 2017- Tadano America equipment users and purchasers are now able to purchase Tadano's top-of-the line machines from an experienced company like Bigge Crane and Rigging Co. The Bigge executive team made the official announcement during a company meeting that their sales team can now sell Tadano equipment in New Mexico, Arizona, Utah and Colorado. Crane industry players will be able to purchase quality new and used Tadano cranes, parts, and much more from the leading Tadano user and dealer in the United States.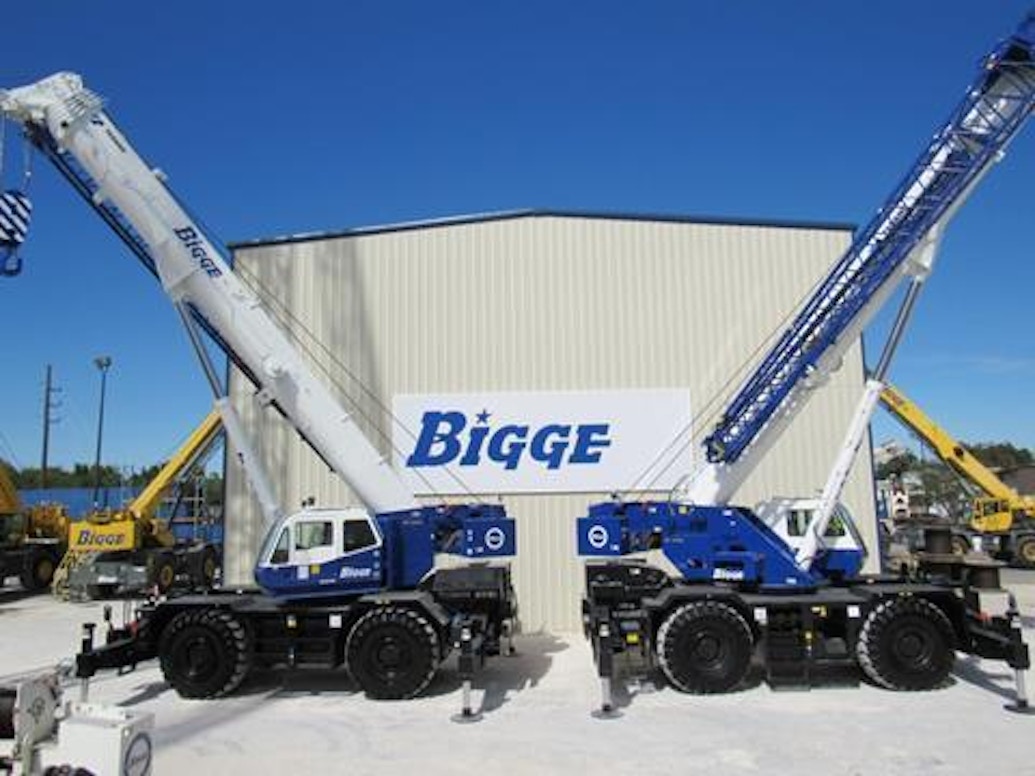 Bigge's partnership with Tadano has been one of growth and collaboration. Since 2013, Bigge has held the largest Tadano fleet in America. Bigge has over 100 pieces of Tadano equipment in its nationwide rental fleet, and actively uses each piece of equipment servicing various industries.

Last month, Tadano and Bigge celebrated the delivery of the first Tadano GR-1200XL rough terrain crane in the United States at its Houston, Texas branch. The GR-1200XL is a 120-ton capacity rough terrain crane that possesses the largest 2‑axles in its model class. According to, Bigge's Vice President of the Gulf Coast, Brian Noga, ​"the crane is a classic Tadano design. It maintains a long boom and jib combination without losing ease of transport, and also maintains maximum lifting performance while working directly over its outriggers in an asymmetrical set up." A total of six GR-1200XL rough terrain cranes were ordered during this year's ConExpo Con/​Agg tradeshow in Las Vegas for Bigge's first class rental fleet. The remaining cranes will be delivered by mid-summer 2018.

According to Bigge's Houston Regional Sales Manager, Tommy Reed, ​"In the Gulf Coast, Bigge is involved in various energy based projects. The building of windmills in Melvin, Texas is just one of many where we are helping a partner by supplying the best in class cranes for their job." Beginning January 2018, Bigge will be providing a total of six cranes to work on the new wind energy project that is being built by Renewable Energy Systems (RES). A crawler crane and five rough terrain cranes will be working around the clock until completion. The two new GR-1200XLs that Bigge received this past October will be part of the active fleet in this project, and be put to the test in terms of reach, capability and flexibility. In addition, the other three rough terrain cranes will be Tadano GR-1000XLs, making it an all Tadano rough terrain fleet. ​"The Bigge team is excited to have the opportunity to break in the new Tadano rough terrain cranes, since the Tadano brand has proven to deliver reliable and safe equipment for our kinds of jobs."

Since 1916, Bigge Crane and Rigging Co. has been the premier provider of crane rentals, crane sales, and specialized heavy lift projects across America. Headquartered in the San Francisco Bay Area in San Leandro, California, Bigge operates a strategic network of sixteen other service locations nationwide allowing them to provide logistical and field support throughout the nation. Bigge's Equipment Sales Team is able to provide first hand equipment use knowledge, equipment purchase financing, and a Lease to Purchase Option to qualified customers. As an official Tadano equipment dealer in the United States, Bigge is proud to be able to provide customers with quality new and used Tadano cranes for sale and for rent. Bigge has more than 1,000 cranes in its rental fleet and has over 800 cranes on rent across the nation. Safety, teamwork, passion, and innovation are part of Bigge's core values, and its rental and project teams have generations of combined experience in their industry. Bigge Crane and Rigging Co.continues to lead the crane industry into the 21st century and is still managed by the Bigge family.

If you would like to learn more about our crane rental, crane sales, and crane parts divisions please visit our website at bigge​.com.