Safety Series: Heavy Equipment
Safety on the Job |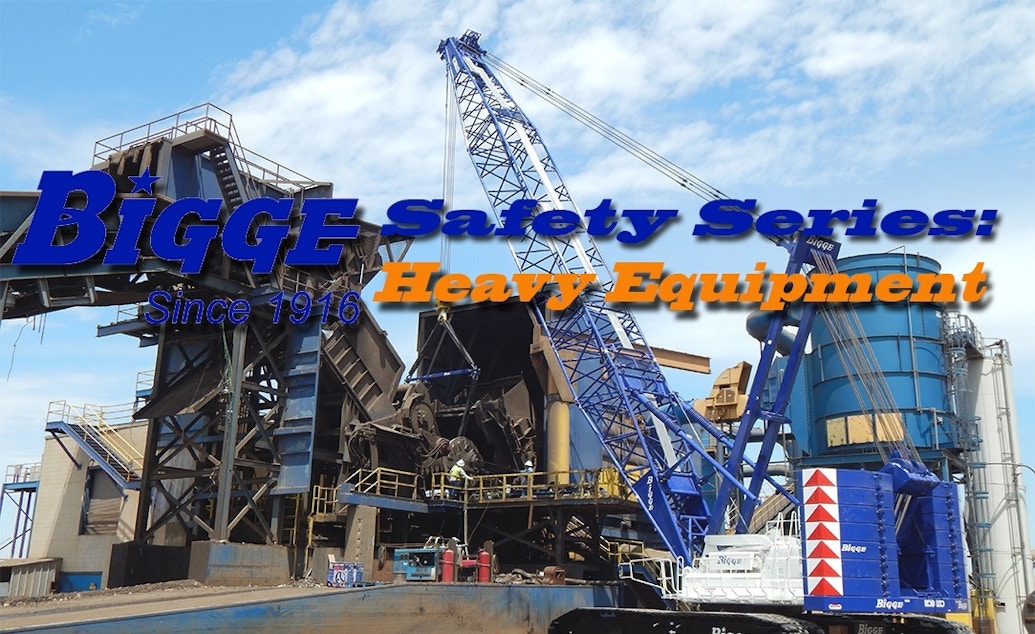 Heavy equipment has been designed to handle very large volumes or large loads.
The picture below shows when Bigge did a lifting project for the Texas Port Recycling facility in May of 2014. Bigge lifted a shredder drum located inside the Ferrous Recycling machine and conveyer, using a Kobelco CK2750 crawler crane. The estimated weight was 10,000 lbs. Bigge was able to remove the old drum and install the new one in record time and without incident.
Heavy equipment such as powerful machines can be dangerous to all around them if not operated correctly. It is important to remember the proper methods used to move them from one site to another, and how to work around them properly.
Rules When Heavy Equipment Is Nearby
Always remain alert to the equipment moving around you.
Do not get near moving equipment unless necessary.
Never ride on equipment unless it has been designed to carry you. This means it must have a seat and a seat belt.
Do not walk beside equipment. If it is necessary to travel with a piece of equipment, walk in front or behind it.
Stay in view of the operator.
Rules for Transporting Heavy Equipment
Inspect all transporting equipment and make sure it is all in good working condition.
Always provide for the protection of the general public.
Wear safety shoes.
Estimate the center of gravity for the equipment to be loaded.
Always load equipment slowly onto its carrier.
If equipment is to be driven off-site make sure the steering, braking, and light systems are in good operating condition.
Tightly secure the piece of equipment to its carrier.
Be sure that the boom or any other extensions of the equipment are tightly secured.
If working with others, be sure to work as a team.
Keep your hands as dry and free of grease and oil as possible.
Always keep the loading area free of debris and unnecessary tools.
When working with heavy equipment it's important to keep the above lists in mind. The common denominator with all rules is communication. By communicating with others, you can reduce the number of mistakes made that lead to injuries. Be vocal about these rules — if you see someone acting outside the safety rules, say something!