2017 Potain MDT 219 J10
Flat-Top For Sale
2017 Potain MDT 219 J10
Flat-Top for Sale
| | |
| --- | --- |
| Max Cap | 11 US Tons |
| Condition | Used |
| EQT # | TCFT219118 |
| Location | Tour This Facility San Leandro, CA |
Price includes upper only
| | |
| --- | --- |
| Max Cap | 11 US Tons |
| Condition | Used |
| EQT # | TCFT219118 |
| Location | Tour This Facility San Leandro, CA |
The Potain MDT219 J10 is part of a new series, Potain MDT CCS City Range cranes help you get more work done faster and with greater precision. This tower crane that has a max lift capacity of 10 metric tons (11 U.S. tons), a maximum hook height with horizontal jib that reaches out to 65 m (213 ft). The height of the lattice mast reaches 70.4 m (231 ft). There is a jib counterbalance needed for the crane when carrying heavier loads at higher altitudes. The jib is fully assembled and cabled on the ground. The hoist motor at the base of the jib allows the complete cabling of the hoist and trolley mechanisms.


The Potain MDT219 J10 uses a 480 volt system that comes equipped with power limiter functionality making it possible to supply power to the winch and reduce the power required by the crane, providing flexibility on the jobsite and saves energy. With the Crane Control System, MDT CCS city range cranes mechanisms are improved such as DVF, LVF, and RVF giving the crane operator more control and precision. The MDT219 J10 is equipped with zone/​interference control system which controls working zones and interference between cranes. This system can monitor up to 16 cranes for interference. It has a full screen display for better viewing of the crane and its environment. The crane comes with the Ultra View cab, which is ergonomically designed for comfort easy to use interface allowing to the operator to work seamlessly. Auto-switch between the cab control unit and the remote control does not require plug-unplug operation. Potain technology is devoted to operator productivity and comfort with standard-fitted variable frequency mechanisms that provide outstanding performance.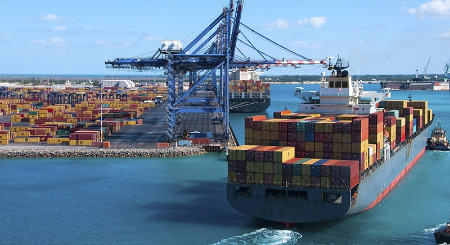 Bigge works with experienced logistic partners to handle shipping of our equipment to our customers and partners.
They have the knowledge and expertise to handle project cargo and deliver your equipment anywhere in the world. Our partners can accommodate any special considerations for large size and heavy machinery, inland and ocean freight and project management. This includes legal forms, customs paperwork and other issues that may arise until your equipment reaches the port of destination.
When you purchase equipment with Bigge, you have peace of mind that it will be handled by logistics professionals, and will arrive safe to your destination.
Can't find what you're looking for?
Get in touch with a Bigge representative now - we're just a phone call away!
Contact us