Bigge Adds $60M in New Cranes to Rental Fleet
Press Releases |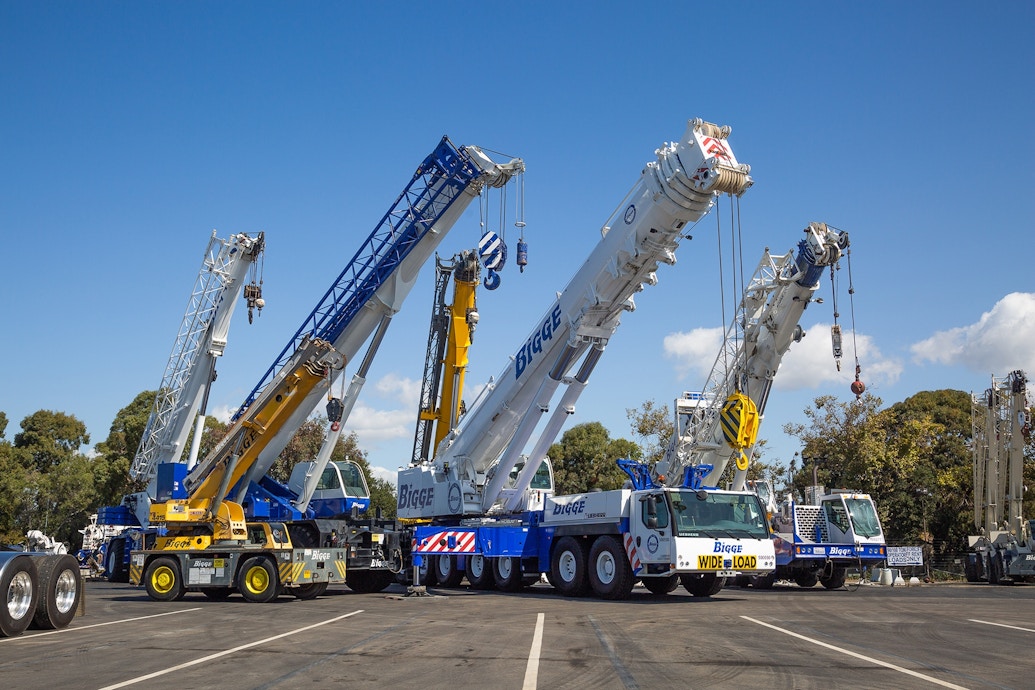 Bigge Crane and Rigging just keeps on growing. Bigge has recently added over 100 new cranes to its nationwide rental fleet, at a cost of over sixty million dollars. Every one of these cranes is new and ready to be leased. Some of the highlights include.
Terex Quadstar 1100, RT 780, 670, 555, 345 and HC275 — Bigge affirmed its position as the world's largest Terex crane dealer by purchasing nearly 50 new Terex rough-terrain cranes ranging from capacities of 45 to 110 tons. These 2013 machines are all Tier IV rated and completely redesigned. Also in the mix were a number of Terex American HC275 crawler cranes, each with a 275 ton capacity. Terex cranes anchor our fleet nationwide, and these cranes are available from all of our locations.
Liebherr LR 1300SX and Liebherr LTM1220 — Bigge just bought six Liebherr LR1300SX cranes, the best-in-class 300 ton capacity crawler crane. These new cranes round out close to two dozen of this model in the Bigge fleet, preferred because its luffing jib is 20 – 40% bigger than any other in its class. Available from all of Bigge's 13 locations, Bigge has the full kit for this crane available from its hubs in Houston, San Leandro, Los Angeles, and Richmond, VA. In addition, Bigge has added three five-axle LTM1220 all-terrain cranes.
Grove RT9150, RT9130, RT890E, Grove GMK6350 — Bigge has also added a significant quantity of these larger RTs that have been exploding in popularity, from the 90-ton capacity RT890E to the 150-ton capacity RT9150. The RT9150 has the largest lift capacity for any rough terrain crane anywhere. With 197 feet of main boom and a 69 foot fixed jib, it has the reach and capacity of a 165 ton class all-terrain crane in the footprint of a two axle rough terrain. Also from Grove, Bigge recently purchased two six-axle GMK6350 all-terrain cranes. Rated at a 350 ton capacity, the GMK6350 stands out because of its best-in-class chart and operating characteristics.

About Bigge
Since 1916, Bigge Crane and Rigging Co. has been the premier provider of best-in-class cranes. Bigge offers crane rentals, cranes for sale, crane parts, and specialized heavy lift equipment to customers across America. With headquarters in California and Texas, Bigge operates a strategic network of over 20 service locations nationwide, allowing them to provide logistical and field support throughout the United States. Bigge actively buys and sells new and quality used cranes and maintains a rental fleet of more than 1,800 assets. Safety, teamwork, results, innovation, and passion are central to Bigge's core values. Bigge continues to lead the crane industry into the 21st century with generations of combined experience in the crane and rigging industry.