Bigge Places Big Order With Terex At ConExpo-Con/Agg 2017
Press Releases |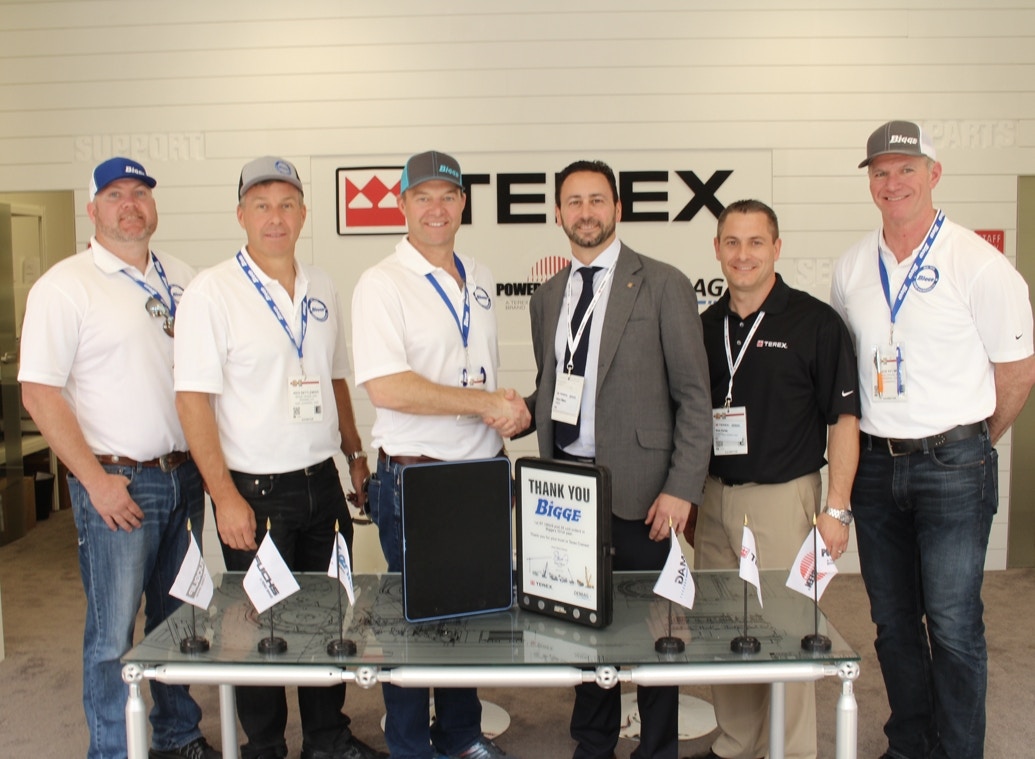 Bigge is proud to expand its sales inventory and rental fleet with an order of 27 cranes with Terex. This purchase will help further support our expanding rental fleet and largest new and quality used crane sales inventory our customers have come to expect.
From Terex:
ZWEIBRÜCKEN, Germany, April 6 2017 – Terex Cranes distributor and heavy end-user, Bigge Crane and Rigging Co., made a substantial equipment investment at CONEXPO-CON/AGG with a 27 unit order with Terex Cranes that includes 8 rough terrain cranes, two boom truck cranes, nine truck cranes, two all terrain cranes and six tower cranes. The new Terex and Demag models will be added to Bigge's sales inventory and massive rental fleet over the next several months. Headquartered in San Leandro, Calif. with locations throughout the United States, Bigge is in its 101st year of operations and has one of North America's largest equipment fleets.
"We are proud to be able to offer our customers Terex and Demag quality crane products," says Bigge's President & CEO, Weston Settlemier. ​"We've worked with the team at Terex Cranes for decades, and they have always been committed to developing quality equipment with innovative features and providing outstanding service. Their recently implemented manufacturing centralization strategy that consolidated U.S. production at its updated Oklahoma City facility is just one of the many reasons we trust Terex Cranes to always deliver the best-in-quality."
The Bigge 27-unit order was initially only for 21 cranes, however, after the show week progressed at CONEXPO-CON/AGG, the Bigge team came back to the Terex booth to add five CTT 721 and one CTL 430 tower cranes to the order.
Prior to this large order, Bigge had purchased more than 500 Terex cranes throughout its 101-year history.
In addition, Bigge has been a close partner with Terex, and instrumental in the development of the new RT 100 US rough terrain crane. ​"Customer input on product innovations is important to our organization," says Steve Filipov, president of Terex Cranes. ​"In addition to being a valued customer and trusted distributor, Bigge has also played a pivotal role in product innovation. Gathering input from customers like Bigge helps to ensure we're building machines to meet the unique needs of all our customers."
About Terex

Terex Corporation is a global manufacturer of lifting and material processing products and services delivering lifecycle solutions that maximize customer return on investment. Major Terex brands include Terex, Genie, Powerscreen and Demag. Terex solutions serve a broad range of industries, including construction, infrastructure, manufacturing, shipping, transportation, refining, energy, utilities, quarrying and mining. Terex offers financial products and services to assist in the acquisition of Terex equipment through Terex Financial Services. More information about Terex is available on its website: www​.Terex​.com, and on its LinkedIn page –www​.linkedin​.com/​c​o​m​p​a​n​y​/​terex and Facebook page — www​.face​book​.com/​T​e​r​e​x​C​o​r​p​o​r​ation.

About Bigge
Since 1916, Bigge Crane and Rigging Co. has been the premier provider of best-in-class cranes. Bigge offers crane rentals, cranes for sale, crane parts, and specialized heavy lift equipment to customers across America. With headquarters in California and Texas, Bigge operates a strategic network of over 20 service locations nationwide, allowing them to provide logistical and field support throughout the United States. Bigge actively buys and sells new and quality used cranes and maintains a rental fleet of more than 1,800 assets. Safety, teamwork, results, innovation, and passion are central to Bigge's core values. Bigge continues to lead the crane industry into the 21st century with generations of combined experience in the crane and rigging industry.