2017 Comedil CTT 721-40
Flat-Top For Sale
2017 Comedil CTT 721-40
Flat-Top for Sale
| | |
| --- | --- |
| Max Cap | 44.1 US Tons |
| Condition | Used |
| EQT # | TCFT721110 |
| Location | Tour This Facility Salt Lake City, UT |
Price includes upper only
| | |
| --- | --- |
| Max Cap | 44.1 US Tons |
| Condition | Used |
| EQT # | TCFT721110 |
| Location | Tour This Facility Salt Lake City, UT |
The Comedil CTT 721 – 40 is a flat top tower crane that sets up quickly, features economical-yet powerful motors providing high lifting capacity. This tower crane has a max lift capacity of 40 metric tons (44.1 U.S. tons). The hook height with horizontal jib reaches out to 84 m (275.6 ft). The lifting capacity at max. length is 3.4 metric tons (3.75 U.S. tons). The jib is self-supporting, it does need tie-bars and is made of 12 triangular sections elements and a jib tip. With a modular design, there are various configurations that can be built specifically for your project.
The CTT 721 – 40 operates using a 163 kVA connection to operate a 94 AFC 200 D2 hoist drive system. The slewing drive on this crane is an SCC 2 2 132P which gives it excellent maneuverability and high precision. The Terex CTT 721 – 40 features transfer mats that you can combine flat top, luffing jib, and hammerhead tower cranes, allowing more flexibility to get the job done. Transfer mats allow for a wide range of combinations. The upper structure of the crane comes with a cross girder, ballast, complete counter jib, and counterweights.
The Comedil CTT 721 – 40 features the EVO15 cabin is designed to allow the operator to work in comfort, reduce fatigue, and help with job site safety. The controls are a new ergonomic joystick for precise maneuvering of loads and an anti-glare, multi-language display that provides data to the operator. The crane uses load, wind speed, and height indicators which then alert the operator of any potential dangers. Terex has equipped their tower cranes with powerful yet safe 2 person lifts called T‑Lift. They could be adapted to all tower cranes, all components are made of galvanized steel and equipped with safety brakes and overload limiters.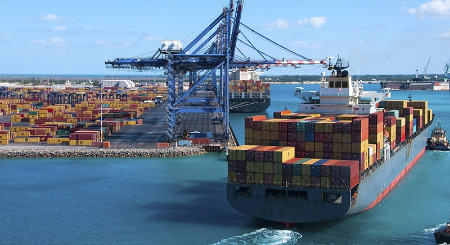 Bigge works with experienced logistic partners to handle shipping of our equipment to our customers and partners.
They have the knowledge and expertise to handle project cargo and deliver your equipment anywhere in the world. Our partners can accommodate any special considerations for large size and heavy machinery, inland and ocean freight and project management. This includes legal forms, customs paperwork and other issues that may arise until your equipment reaches the port of destination.
When you purchase equipment with Bigge, you have peace of mind that it will be handled by logistics professionals, and will arrive safe to your destination.
Can't find what you're looking for?
Get in touch with a Bigge representative now - we're just a phone call away!
Contact us