Bigge is the one-stop shop for all your crane part needs
We have an extensive inventory of high-quality parts that are on-hand and ready to be shipped worldwide today!
Skip the hassle of contacting manufacturers and order your parts directly through Bigge. We have the fastest response time in the industry, which guarantees you'll get the parts you need when it matters most.
Crane Preventive Maintenance
Properly maintaining your crane is not only crucial to its longevity but is also very important for ensuring its optimal performance. Air, fuel, and engine oil filters must be regularly cleansed of dirt and debris and replaced every 500 hours. Hydraulic filters should be changed every 1,000 hours to keep the proper fluid pressure, and so do cabin filters to ensure high air quality and operator safety. By adhering to a strict maintenance schedule, you can rest assured that your crane will be in top shape and working efficiently long into the future.
Crane Preventive Maintenance Kits
With over 1,600 cranes in our fleet, we are experts when it comes to crane maintenance, and have developed the most efficient crane maintenance kits for all kinds of cranes.
Crane preventive maintenance keeps crane systems running efficiently and at peak performance.
The 500-hour crane maintenance kit includes Air, Fuel, and Engine Oil Filters, while the 1000-hour kit goes one step further by adding essential hydraulic and cabin filters. Taking advantage of these comprehensive maintenance kits ultimately helps reduce unscheduled downtime, keeps crane components functioning properly, and improves operator safety. Investing in crane preventive maintenance kits can prevent equipment damage or failure and even help avoid expensive legal fees due to compliance failures that could arise from a lack of proper upkeep.
Check availability of Crane Service Kits for your crane
Types of Crane Filters and Filter Replacement Schedule
An efficient, reliable filter system is essential to keeping a crane running optimally and preventing costly repairs. When shopping for a crane filter replacement – always look for genuine crane filters and replacement parts because they provide the performance and reliability required to ensure a longer-lasting machine.
Using genuine crane filters ensures increased machine life due to reduced contamination in the system. Utilizing genuine crane filters will continue to give you peace of mind that your crane is operating with maximum efficiency. Here are some of the most common crane filters we offer:
Return Filter for Hydraulic Oil
Air Breather
Fuel Filter & Water Separator
PCV Valve Element
Filter for Steering Circuit
Air Dryer
Filter in the Cooling System
Air, fuel, and engine filters must be replaced every 500 hours, while hydraulic and cabin filters can last up to 1,000 hours.
If you are not sure which filter you need to replace, let us know your crane make and model, and we will be happy to assemble a crane maintenance kit for your machine! Get in touch today.
Crane Inserts, Jib Assemblies, Main Blocks, and Counterweights
If you're looking for crane inserts, jibs, booms, or main blocks to increase your crane performance, Bigge is the fastest way to get them. We offer a reliable and speedy response time when buying from top crane manufacturers, meaning that you can get what you need quickly without sacrificing quality or price. With our extensive crane parts purchasing process, we have some of the best prices and stock availability on the market. So don't wait - get the performance boost you need today with Bigge.
Crane Computer Replacement and Computer Parts
Nobody wants to miss project deadlines, especially due to electronic and crane computer issues. Being able to get the fastest response time is key when it comes to downtime. Bigge provides reliable crane computers at the best prices and highest stock availability, ensuring you get the needed parts as quickly as possible. Commonly sought-after parts such as anemometers, LMI display replacements, and crane computers are available from Bigge, allowing you to service any make and model of crane easily.
Inevitably, older machines will eventually need a complete engine replacement. This is often one of the most expensive services you will need on your crane and parts can often be very difficult to find. If your mechanic can't fix the engine, give Bigge a try – we have access to some of the rarest and hardest-to-find crane parts on the market, including crane engines of later models and crane computers.
Crane Parts FAQ
How often should crane parts be replaced?
Regularly servicing your crane with manufacturers' genuine parts and components can help prevent costly service calls for owners and operators. Cranes will inevitably experience wear and tear over time, however, replacement frequencies depend on the crane's usage hours and work conditions.
The most frequently requested replacement parts include filters, wire rope, and belts. Pipes, lines, and other components of a crane are far more susceptible to damage and leaks as compared to heavy metal components.
By proactively replacing parts on a regular schedule, crane operators can avoid downtime or costly service calls due to faulty crane components.
How can I tell if my crane needs new parts?
If your crane is experiencing any of these signs, it may be time to consider replacement parts:
Frequent repairs occurrences
Reduced lifting capacity
Unusual noises during operation
Accidents
Failed inspections
How do I properly maintain my crane?
You should refer to OSHA safety regulations and your crane's Operating Manual for crane maintenance schedule and procedures. Per OSHA requirements, each crane has to be inspected every 12 months by a qualified professional, but frequent service is required in order to keep your crane at the optimum operating condition:
Inspect chains, belts, and connections for damages after every job
Ensure proper alignment before each lift
Check the hook and make sure it's intact after each job
Check air and hydraulic systems daily – those pipes and lines are quite susceptible to leaks and damage
Replace wheels and tracks as soon as you notice serious wear
What are some common problems that occur with cranes?
Crane problems, unfortunately, can occur across all parts of a crane and can range from issues with electrical and electronic systems to hydraulic problems as well as wear to other major components such as the engine.
All-Terrain cranes and mobile cranes typically experience wear issues related to the wheels over time, while crawler crane owners may experience service needs with their tracks.
Cranes are a complex piece of machine and with high usage hours and heavy use, a wide variety of problems can surface with any crane. It is important for owners and operators to stay ahead of maintenance needs and promptly address any problems that do arise to ensure the best performance possible.
How do I find replacement parts for my crane?
If your crane is under warranty, the most cost-efficient way to find replacement parts would be to contact the manufacturer for service or look up a reputable crane repair facility.
At times, a warranty claim or service call can result in longer than desired lead times. If you are looking for an expedited solution, Bigge can help.
With one of the fastest response times in the industry, we provide a wide range of genuine crane parts from Terex, Tadano, Kobelco, and other major brands to ensure you get the parts you need as quickly as possible. Rest assured that our commitment to quality service will minimize machine downtime and maximize productivity.
All we need to source your part is a crane year, make, model, and the part you need or the issue you are facing with your machine – and we will find the right part for you.
What are the replacement costs on some common crane parts?
Crane repair shops may charge you hourly for crane repair work, starting from $100/hour depending on the type of work performed. The cost also depends on the type of crane part you are looking for and its associated price.
Crane filters and other routing maintenance parts are typically inexpensive but bigger services can often cost thousands of dollars when needing to replace your engine, computer, or hydraulic systems.
With that said, one of the most expensive parts of crane repair is not the cost of the actual repair, it's the loss of operating income while a crane is out of service.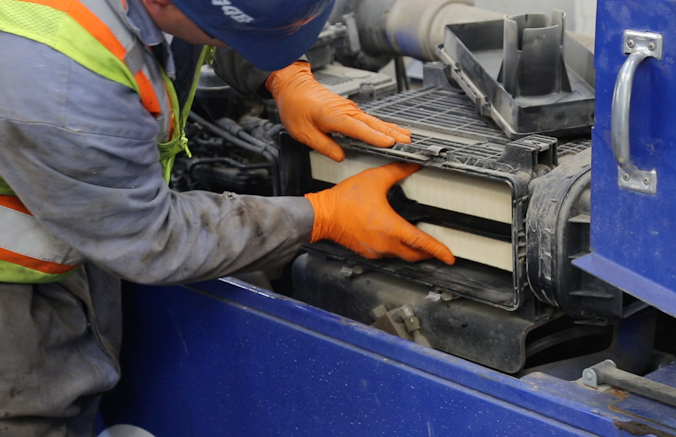 Genuine Parts and Attachments For All Cranes
Stop struggling to find parts for your equipment. Bigge is a parts dealer for Terex, Tadano, and Kobelco, as well as a reliable supplier for all other major crane brands. Let us supply the parts that keep your equipment in tip-top shape!
Can't find what you're looking for?
Get in touch with a Bigge representative now - we're just a phone call away!
Contact us