Cranes for Rent Biloxi, MS
Biloxi Crane Rental
Bigge is excited to announce the expansion of our crane rental service to Mississippi and Alabama from our new Biloxi, MS location in Harrison County! Located near the intersection of Interstate 110 and 10, Bigge's Perfect Fleet will now be able to better serve our current and new partners in the Gulf Coast.

Biloxi Crane Rental – Bigge has nearly 300 rough terrain cranes, 60 tower cranes and hoists, and more than 100 crawlers available in the Gulf region. Highlights of our Biloxi rental fleet include 80-100-ton capacity Tadano Rough Terrain cranes, the newest Manitowoc MLC650, Liebherr LR 1300, LR1750, and Kobelco crawler cranes. These crane cranes are available for bare rent throughout Mississippi and Alabama.

Bigge's heavy lift equipment is commonly utilized for the plant and refinery industries, as well as the commercial and industrial construction industries and civil infrastructure projects.

Crane Sales - Bigge is an authorized dealer for Grove, Kobelco, Liebherr, Manitowoc, Tadano, Terex, and more, and has an extensive new and used crane inventory.
Biloxi Crane Rental Services Include:

Bare Crane Rental – Rough Terrains, Crawler Cranes, and Telecrawlers from 15 to 1,100 US tons

Pre-Bidding Assistance

Tower Crane Rental

Construction Hoist Rental

Mega Projects

Crane Sales

Parts Sales


We work hard to make the best in class cranes available to local general contractors in Biloxi. Combined with our nationally-recognized team of top-notch engineers, Bigge makes the completion of even the most complex lifts possible for our partners.

Our engineers and crane experts will answer any pre-planning questions, provide project estimates and equipment analysis along with lifting method evaluations. Bigge offers full support to our customers every step of the way throughout the project to ensure safe, efficient, and timely execution under budget.

Request a quote, or call us for a free crane rental or equipment storage estimate.
Need Crane Service?
Bigge has the best equipment, the youngest crane fleet and more board-certified Safety Trained operators and supervisors than any other crane rental outfit in the business. Request a Quote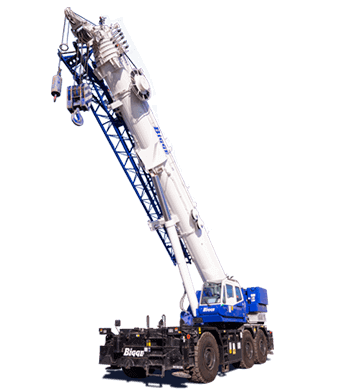 Bigge Crane and Rigging Co.
228-265-7497
14405 Stenum St
Biloxi, MS 39532
Driving Directions
If you are coming to visit our Biloxi, MS crane rental facility via East on I-10 you will use the right 2 lanes to take exit 50 to merge onto MS-609 S/Tucker Rd/Washington Ave toward Ocean Springs. You will then turn right onto Big Ridge Rd, turn right onto Park Ridge Dr, then finally a left onto Sternum St.
If you are coming to visit our Biloxi, MS crane rental facility via West on I-10 you will take exit 50 toward Ocean Springs, use any lane to turn left onto MS-609 S/Tucker Rd/Washington Ave. Turn right onto Big Ridge Rd, turn right onto Park Ridge Dr, and then you will turn left onto Sternum St.
Areas Served
Mississippi
Alabama
Pascagoula
Birmingham
Solutions for Every Industry
Heavy Lift Equipment and Cranes for Rent
Bigge's Perfect Fleet is one of the largest, most modern, and versatile crane fleets in the world. Over the years, our fleet has grown to over 1500 cranes consisting of best in class truck cranes, all-terrain cranes, rough terrain cranes, crawler cranes, tower cranes, boom trucks, and hoists. Browse the categories below to see cranes or rent.
Bigge in Action
Based in Biloxi, Bigge offers bare crane rental to all of Mississippi and Alabama, including Pascagoula and Birmingham. Visit the equipment list for a more thorough explanation of our capacities and equipment