Emergency Recovery Crane Service in Northern California
24-Hour Emergency RECOVERY Crane Service - Call (510)-277-4747

When emergencies and accidents happen, time is measured in seconds – thousands of people can be impacted, property is on the line, and city officials must make decisions and move quickly. At Bigge, we know the importance of rapid response, availability of the right equipment, and reliable, professional crews. We offer 24-hour/7 days a week emergency crane service across Northern California, including disaster recovery, post-accident crane service, and emergency response.


---
The Right Crane for any emergency
Backed by our Perfect Fleet, Bigge has dozens of mobile cranes with capacities between 40 and 600 tons, available for immediate dispatch to San Francisco, Oakland, San Jose, Contra Costa, and all the way to Santa Cruz, Sacramento, and Lake Tahoe from our multiple Northern California crane rental locations. Additional assist cranes, the right rigging equipment, and strand jacks for support of heavy structures with capacities up to 1,100 are always in Bigge's back pocket.
Exceptional Rapid Response Crane Squad
Having the right cranes is not enough when there is no time to lose. When Bigge's crew arrives, you'll know you are getting the Navy-seal level crane squad, trained to the highest industry standards, equipped with all the necessary equipment and the proper rigging. Our exceptionally skilled team consistently undergoes training to further improve their skills through ongoing educational programs and certifications, not to mention hands-on experience in emergency crane response work. You can count on Bigge's crew to get the crane delivered and rigged in quickly, with the job done efficiently and safely. Our world-class team of riggers and operators comes with the highest qualifications - every operator is NCCO certified, and the entire crew is DISA certified.

24-hour Crane Service Availability
Prepared for any challenge, Bigge offers Northern California 24-hour/7 days a week emergency crane service. When every second counts, rely on Bigge for the quick-response crane rental service.
Post-Earthquake Recovery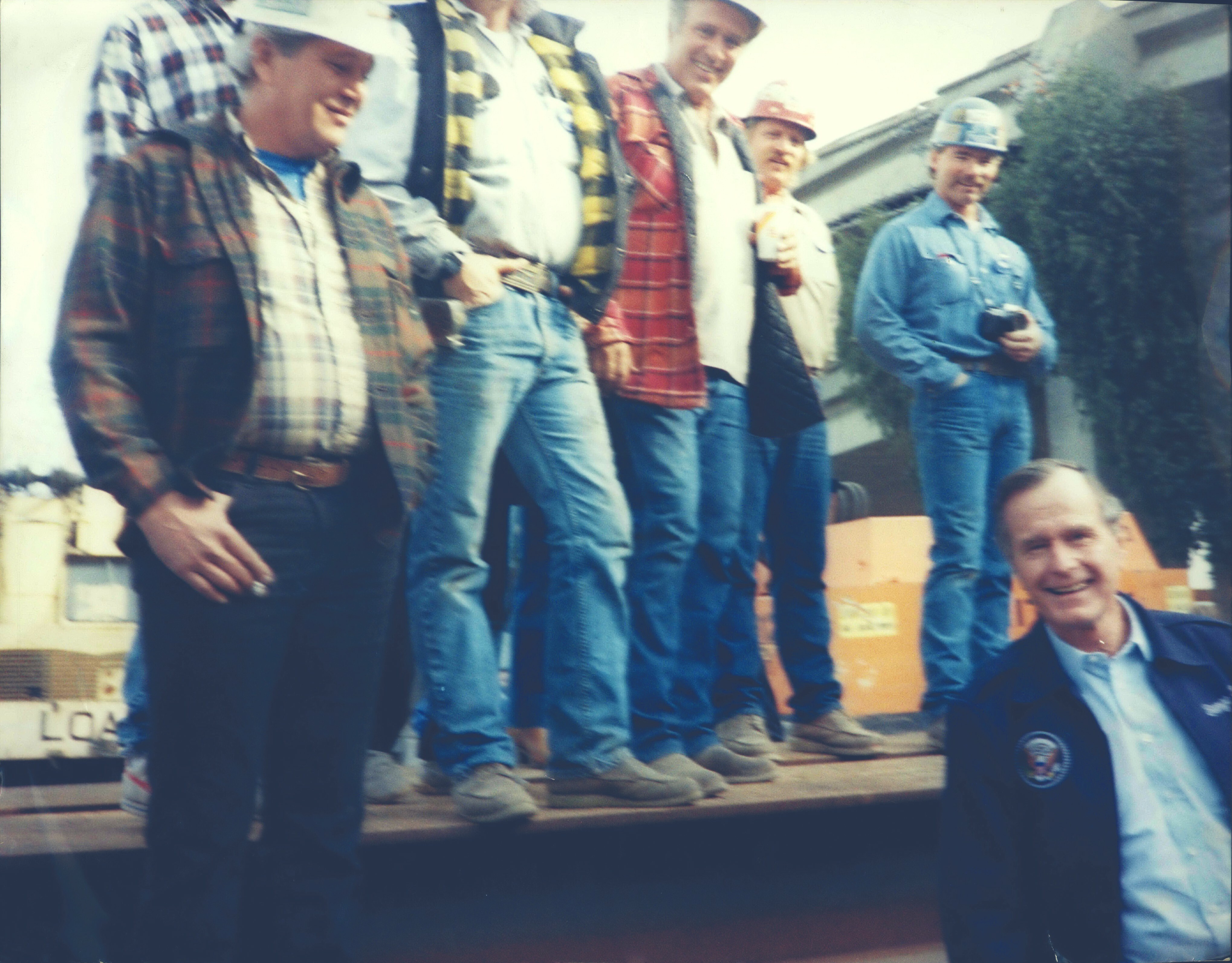 California is known all over the world for its sun and surf, its tech, glamour, and optimism. But it is known too as "Earthquake Country" — a truly vulnerable region where big devastating quakes have occurred in the past and could happen again. No one can predict when the next massive earthquake will rock California, but new research suggests we are edging closer to the big one.
Back in 1989, when the Loma Prieta Earthquake hit, Bigge's recovery crew worked hand in hand with the Oakland fire Department to rescue survivors, secure unstable structures, and remove debris. Pictured here is a visit from President George H. W. Bush to meet the Bigge crew working at the recovery site of a collapsed elevated freeway.
It is unlikely that California would experience an event on the scale of recent disasters in Italy or Japan. California has learned from its past disasters, and most buildings are designed to withstand major quakes. Nevertheless, Californians are worried, and Bigge is prepared to come to the rescue with it's trained personnel and equipment to provide the fastest relief at the time each second counts.
Emergency Recovery Equipment For Rent
We Are the Trusted crane Partner for These Industries:
Bigge in Action
At Bigge, we know the importance of rapid response, availability of the right equipment, and having expertly trained crew operating equipment and assisting in emergency situations. We offer 24-hour/7 days a week emergency crane service in Northern California.
Can't find what you're looking for?
Get in touch with a Bigge representative now - we're just a phone call away!
Contact us