Houston Crane Rental - Gulf Coast Headquarters
The Largest and Most Diverse Crane Rental Fleet in Houston, Texas and the Gulf Coast
Houston is Bigge's anchor location for the Gulf Coast region. Fast-growing and with its largest crane fleet, Bigge offers crane rentals all over Texas and the Gulf Region from its Houston office with additional supporting locations in the region.
We are excited to announce that we have expanded to an additional 20-acres down the street from our original Gulf Coast headquarters. The original crane yard is now occupied by Bigge's Tower Crane and Hoist division, but our brand new, world-class crane facility and Gulf Coast headquarters is now located at 8300 McHard Road.
Strategically located in Houston, TX, Bigge offers a wide range of crane services to Gulf Coast customers:

Bare Crane Rental - All crane types with capacities ranging from 15 to 1,100 US tons
3D Lift planning and project engineering
Pre-Bidding Assistance
Turnkey Tower Crane Rental (Pre-Planning, Erection, Operation, Maintenance, and Dismantle)
Construction Hoist Rental (Pre-Planning, Installation, Operation, Maintenance, and Removal of Carts)
Mega Projects
Crane Sales

Parts Sales
Our brand-new, state-of-the-art crane facility has 115,000 square feet of professional workspace, including 35 individual high-tech working bays, a 7,000 square foot secure parts paddock, a fully equipped welding shop, blast and paint booths that help to keep our fleet in perfect condition. Eight overhead gantry cranes make our maintenance process safer, faster, and more efficient. The facility also has 10,000 square feet of impressive office space for our Gulf operations teams.
Need Crane Service?
Bigge has the best equipment, the youngest crane fleet and more board-certified Safety Trained operators and supervisors than any other crane rental outfit in the business. Request a Quote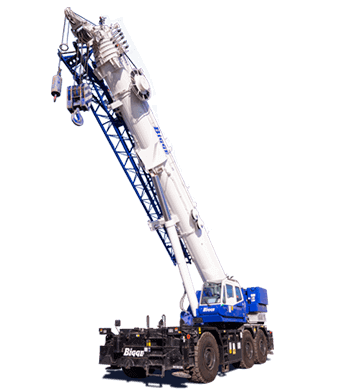 Loading/Unloading Hours
Loading and Unloading Hours are from 7:30am to 4:30pm, Monday thru Friday.
Bigge Crane and Rigging Co.
713-352-6832
8300 McHard Rd
Houston, TX 77053
Driving Directions
Our Gulf Headquarters is located at 8300 McHard Rd. in south Houston, close to Pearland. From the south Sam Houston Tollway, exit and turn south on Almeda Rd. From there, turn right on McHard Rd (FM 2234), and in less than a mile, you will see Bigge on the left.
Areas Served
Houston
Baytown
Aldine, TX
Algoa, TX
Alvin, TX
Angleton, TX
Bay City, TX
Baytown, TX
Channelview, TX
Clear Lake City, TX
Solutions for Every Industry
Heavy Lift Equipment and Cranes for Rent
Bigge's Perfect Fleet is one of the largest, most modern, and versatile crane fleets in the world. Over the years, our fleet has grown to over 1500 cranes consisting of best in class truck cranes, all-terrain cranes, rough terrain cranes, crawler cranes, tower cranes, boom trucks, and hoists. Browse the categories below to see cranes or rent.
Bigge in Action
With its global headquarters in San Leandro, Bigge is one of the largest crane rental, rigging, and specialized heavy lift and transportation companies in the U.S. Strategically located in the San Francisco Bay Area, Bigge San Leandro is the principle location for every one of our services.
Gulf Region Crane Rental- Everything is bigger in Texas, including the size of Bigge's bare rental fleet, with nearly 300 rough terrain cranes, 60 tower cranes and hoists, and more than 100 crawlers, mostly new models and many with specialized equipment for servicing the tallest wind turbines. Bigge bare rents all of these and more throughout Texas and beyond.

Heavy Rigging and Transport - Bigge's project services team has worked on infrastructure projects up and down the Gulf Coast. Our team of engineers, project managers, superintendents, and craftsmen have a peerless reputation for innovation, safety, and successful application of technology to execute projects on time and as estimated. Bigge specializes in projects for the oil and gas exploration industries, as well as refinery, power generation, and construction sectors.

Crane Sales - Bigge is an authorized dealer for Grove, Kobelco, Liebherr, Manitowoc, Tadano, Terex and more, and has an extensive new and used crane inventory. Centrally located near the Port of Houston, Bigge ships around the country and around the globe from its Gulf headquarters.