Cranes for Rent Las Vegas NV
Cranes for Rent in Las Vegas and Southern Nevada
Bigge's location in Las Vegas is its newest. Here, Bigge brings fully operated crane rental and crane service, bare crane rental, and heavy lift rigging and heavy transportation project services to the desert.

Las Vegas Crane Rental - Bigge operates the largest operated and maintained and bare rental fleet on the West Coast. Combined with our seven California branches, Bigge has over 500 cranes, and provides both bare rental and full operated and maintained crane rental and service. We provide lift solutions for any application and specialize in hoisting HVAC equipment, machinery moving, plant relocation, precast building panels, and more. From all-terrain to towers and hoists to truck cranes and crawlers, Bigge has it all.

Major Projects - Bigge has an unparalleled record with heavy rigging and transportation. Bigge has undertaken and executed in some of the most dynamic projects and construction challenges the world has to offer. Recently, Bigge helped build Levi's Stadium and is currently working at the new Los Angeles Stadium at Hollywood Park.
Las Vegas Crane Rental Services Include:

Bare Crane Rental – Rough Terrains, Crawler Cranes, and Telecrawlers from 15 to 1,100 US tons

Pre-Bidding Assistance

Tower Crane Rental

Construction Hoist Rental

Mega Projects

Crane Sales
Parts Sales

We work hard to make the best in class cranes available to local general contractors in Las Vegas. Combined with our nationally-recognized team of top-notch engineers, Bigge makes the completion of even the most complex lifts possible for our partners.

Our engineers and crane experts will answer any pre-planning questions, provide project estimates and equipment analysis along with lifting method evaluations. Bigge offers full support to our customers every step of the way throughout the project to ensure safe, efficient, and timely execution under budget.

Request a quote, or call us for a free crane rental or equipment storage estimate.
Need Crane Service?
Bigge has the best equipment, the youngest crane fleet and more board-certified Safety Trained operators and supervisors than any other crane rental outfit in the business. Request a Quote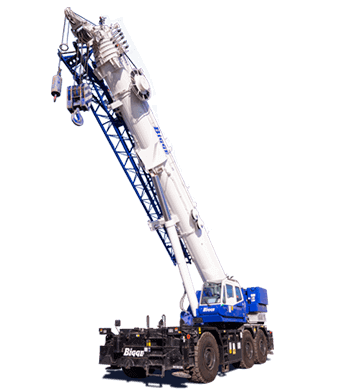 Bigge Crane and Rigging Co.
702-472-7892
4191 E Dandelion St
Pahrump, NV 89048
Driving Directions
If you are traveling to visit our Pahrump crane rental facility via NV-160 E, continue SE towards S Zuni Ave, turn right onto Bridge St, and turn right at the 1st cross street onto E Dandelion St and you will have arrived at the facility.
If you are traveling to visit our Pahrump crane rental facility via NV-160 W, continue NW on NV-160 toward E Dandelion St, turn left onto E Dandelion St and you will have arrived at the facility.
Areas Served
North Las Vegas, NV
Winchester, NV
Sunrise Manor, NV
Paradise, NV
Spring Valley, NV
Henderson, NV
Boulder City, NV
Pahrump, NV
Solutions for Every Industry
Heavy Lift Equipment and Cranes for Rent
Bigge's Perfect Fleet is one of the largest, most modern, and versatile crane fleets in the world. Over the years, our fleet has grown to over 1500 cranes consisting of best in class truck cranes, all-terrain cranes, rough terrain cranes, crawler cranes, tower cranes, boom trucks, and hoists. Browse the categories below to see cranes or rent.
Bigge in Action
With its global headquarters in San Leandro, Bigge is one of the largest crane rental, rigging, and specialized heavy lift and transportation companies in the U.S. Strategically located in the San Francisco Bay Area, Bigge San Leandro is the principle location for every one of our services.