Cranes for Rent Richmond VA
Crane for Rent Richmond VA
Richmond, VA is the East Coast headquarters for Bigge Crane and Rigging and is its hub for all major heavy lift and transportation projects up and down the Eastern Coast. Bigge also provides bare crane rental from its Richmond location.

Richmond Crane Rental - Bigge has one of the largest bare rental fleets on the East Coast, with over 200 rough terrain cranes, 60 tower cranes and hoists, and 100 crawlers, all newer models. Bigge also rents trailers and equipment, including a large fleet of Goldhofer modular platform trailers, throughout Virginia and beyond.
Bigge's Richmond Crane Rental Services Include:
Bare Crane Rental – Rough Terrains, Crawler Cranes, and Telecrawlers from 15 to 1,100 US tons
Pre-Bidding Assistance
Tower Crane Rental
Construction Hoist Rental
Mega Projects
Crane Sales
Parts Sales
Bigge Richmond also specializes in servicing the refinery and power industry sectors, including heavy lift and transport projects required by coal and gas plant maintenance, along with wind turbine assembly and maintenance. Bigge Richmond also has extensive experience in the new construction of coal and gas-fired combustion turbines, as well as fossil fuel plant maintenance. Our Richmond, Virginia office has been involved in a number of high-profile projects for Bigge including the construction of a gasification plant in Edwardsport, IN, as well as servicing the Baldwin Energy Complex in Illinois and the Morgantown Power Plant, in Maryland.
Need Crane Service?
Bigge has the best equipment, the youngest crane fleet and more board-certified Safety Trained operators and supervisors than any other crane rental outfit in the business. Request a Quote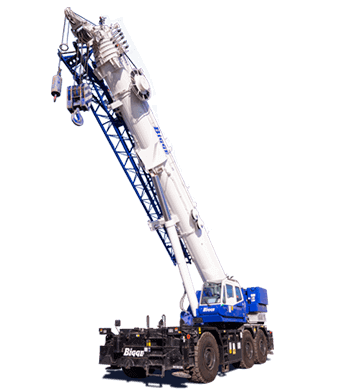 Bigge Crane and Rigging Co.
804-271-9356
By Appointment Only
Richmond, VA 23224
Driving Directions
If you are traveling to visit our Richmond crane rental facility via US-1 N, you will continue on US-1 N toward Harwood St, you will then turn left onto Maury St, turn left onto Perdue Ave and the destination will be on the left.
If you are traveling to visit our Richmond crane rental facility via US-1 S, you will turn right onto Maury St, turn left onto Perdue Ave and the destination will be on the left.
Areas Served
Glen Allen, VA
Highland Springs, VA
Mechanisville, VA
Ashland, VA
Sandston, VA
Hanover, VA
Chester, VA
Colonial Heights, VA
Fort Lee, VA
Hopewell, VA
Solutions for Every Industry
Heavy Lift Equipment and Cranes for Rent
Bigge's Perfect Fleet is one of the largest, most modern, and versatile crane fleets in the world. Over the years, our fleet has grown to over 1500 cranes consisting of best in class truck cranes, all-terrain cranes, rough terrain cranes, crawler cranes, tower cranes, boom trucks, and hoists. Browse the categories below to see cranes or rent.
Bigge in Action
With its global headquarters in San Leandro, Bigge is one of the largest crane rental, rigging, and specialized heavy lift and transportation companies in the U.S. Strategically located in the San Francisco Bay Area, Bigge San Leandro is the principle location for every one of our services.