Cranes for Rent Denver CO
Denver and Colorado Springs Crane Rental
Bigge's Colorado Crane Rental location offers bare rough terrain crane rental and crawler cranes for rent in Colorado Springs, Denver County, and the Rockies region. Located near the major intersections of highways 76, 85, and 44, off Brighton Road in Henderson, CO, cranes can be quickly dispatched to any Intermountain region location. Bigge's extensive top-notch Colorado crane rental fleet includes Tadano's best-in-class rough terrain cranes ranging from 15 to 160-ton capacity. We also offer the most modern 85 to 1100 ton Kobelco, Liebherr, Mantis, and Manitowoc crawler cranes for rent and telescopic crawlers. The Colorado fleet is backed by hundreds of additional cranes ready to be dispatched from one of our 24 service locations nationwide.
Our Denver yard also provides a logical waypoint between established Bigge locations in Salt Lake City and our Gulf Region headquarters in Houston, TX. Combined with the hundreds of cranes capable of being dispatched from Bigge's other sites, Bigge Denver has one of the largest and most modern fleets in the Intermountain region.
Equipment and Services
Rough Terrain Cranes with capacities ranging from 30 tons to 160 tons dominate our Denver fleet. Bigge's fleet is comprised of the best in class cranes from manufacturers like Link-Belt, Tadano, Grove, and Terex. We are always adding new cranes to ensure a youthful fleet with the current oldest crane being a 2012 model. Each crane gets preventative maintenance as well as going through the manufacturer's recommended maintenance program.
Industries Served
Accelerated Bridge Construction
Nuclear
Commercial and Industrial Construction
Need Crane Service?
Bigge has the best equipment, the youngest crane fleet and more board-certified Safety Trained operators and supervisors than any other crane rental outfit in the business. Request a Quote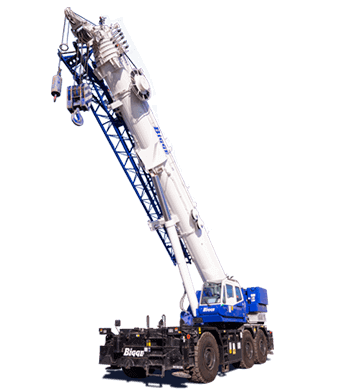 Bigge Crane and Rigging Co.
720-307-0347
10180 Brighton Rd
Henderson, CO 80640
Driving Directions
If you are traveling to visit our Denver crane rental facility via S on US-85 you will head SW on US-85 S toward E 124th Ave. You will then turn right onto E 104th Ave, followed by turning right onto Brighton Rd, you will then turn left one more time and the facility will be on the right.
If you are traveling to visit our Denver crane rental facility via Highway 76 you will head NE on Exit 11, at the traffic circle, take the 5th exit onto E 96th Ave, at the next traffic circle, take the 1st exit onto Brighton Rd, turn right and the facility will be on the right.
Areas Served
Arvada, CO
Boulder, CO
Cherry Creek, CO
Colorado Spring, CO
Denver, CO
Highlands Ranch, CO
Lakewood, CO
Pueblo, CO
Solutions for Every Industry
Heavy Lift Equipment and Cranes for Rent
Bigge's Perfect Fleet is one of the largest, most modern, and versatile crane fleets in the world. Over the years, our fleet has grown to over 1500 cranes consisting of best in class truck cranes, all-terrain cranes, rough terrain cranes, crawler cranes, tower cranes, boom trucks, and hoists. Browse the categories below to see cranes or rent.
Bigge in Action
With its global headquarters in San Leandro, Bigge is one of the largest crane rental, rigging, and specialized heavy lift and transportation companies in the U.S. Strategically located in the San Francisco Bay Area, Bigge San Leandro is the principle location for every one of our services.