Reno and Lake Tahoe Crane Rental
In addition to providing crane rental services in Las Vegas, Bigge now offers cranes for rent in Tahoe and Reno, Northern Nevada. Services available in this area include tower crane rental, construction hoist rental and heavy lift engineered rigging.

This location services customers by Appointment Only - Please call ahead before you visit.
Crane Rental Services in Tahoe and Reno Include:
Operated and Maintained Crane Rental
Emergency Crane Service
Bare Crane Rental - All crane types with capacities ranging from 15 to 1,100 US tons
3D Lift planning and project engineering
Pre-Bidding Assistance
Turnkey Tower Crane Rental (Pre-Planning, Erection, Operation, Maintenance, and Dismantle)
Construction Hoist Rental (Pre-Planning, Installation, Operation, Maintenance, and Dismantle)
Mega Projects
Oversized Storage - Receive Store and Haul
Crane Sales
Parts Sales
Bigge's engineers and project managers can assist in all phases of transport, pre-construction planning and erection of rental equipment. With over a century of experience in the crane rental industry, Bigge is known to deliver streamlined and efficient crane services to its customers. Since 1916, Bigge has been a leader in providing equipment and services for complex projects while meeting the highest standards of safety and innovation. Our growing Perfect FleetSM of over 200 tower cranes, and over 1,000 mobile cranes is one of the largest and youngest in the nation, offering the best crane models in the market.
Need Crane Service?
Bigge has the best equipment, the youngest crane fleet and more board-certified Safety Trained operators and supervisors than any other crane rental outfit in the business. Request a Quote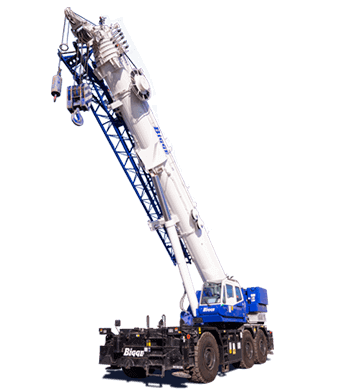 Bigge Crane and Rigging Co.
775-277-2793
By Appointment Only
Reno, NV 89509
Areas Served
Lake Tahoe, CA
Reno, NV
Carson City, NV
South Lake Tahoe, CA
Placer County
Washoe County
El Dorado County
Douglas County
Solutions for Every Industry
Heavy Lift Equipment and Cranes for Rent
Bigge's Perfect Fleet is one of the largest, most modern, and versatile crane fleets in the world. Over the years, our fleet has grown to over 1500 cranes consisting of best in class truck cranes, all-terrain cranes, rough terrain cranes, crawler cranes, tower cranes, boom trucks, and hoists. Browse the categories below to see cranes or rent.
Bigge in Action
With its global headquarters in San Leandro, Bigge is one of the largest crane rental, rigging, and specialized heavy lift and transportation companies in the U.S. Strategically located in the San Francisco Bay Area, Bigge San Leandro is the principle location for every one of our services.