Cranes for Rent in Baton Rouge, Louisiana
Baton Rouge Crane Rental
With its business along the Gulf exploding, Bigge now has a second Gulf States outpost in Gonzalez, right outside Baton Rouge, Louisiana. Bigge facilitates bare crane rental and heavy rigging and transportation support to the entire Gulf region from our Baton Rouge location. Baton Rouge Crane Rental - The heart of Bigge's bare rental fleet is here. In concert with our Gulf States headquarters in Houston, Bigge has heavy lift solutions for every application, including nearly 300 rough terrain cranes, 60 tower cranes and hoists, and more than 100 crawlers, primarily newer models and many with specialized equipment for servicing the tallest wind turbines. Bigge bare rents all of these and more throughout Louisiana and beyond. Bigge specializes in jobs for the power generation and oil and gas exploration industries.

Baton Rouge Crane Rental Services Include:

Bare Crane Rental – Rough Terrains, Crawler Cranes, and Telecrawlers from 15 to 1,100 US tons
Pre-Bidding Assistance
Tower Crane Rental
Construction Hoist Rental
Mega Projects
Crane Sales
Parts Sales
Oversized storage for short- or long-term requirements
We work hard to make the best in class cranes available to local general contractors in Baton Rouge. Combined with our nationally-recognized team of top-notch engineers, Bigge makes the completion of even the most complex lifts possible for our partners.
Our engineers and crane experts will answer any pre-planning questions, provide project estimates and equipment analysis along with lifting method evaluations. Bigge offers full support to our customers every step of the way throughout the project to ensure safe, efficient, and timely execution under budget.

Request a quote, or call us for a free crane rental or equipment storage estimate.
Need Crane Service?
Bigge has the best equipment, the youngest crane fleet and more board-certified Safety Trained operators and supervisors than any other crane rental outfit in the business. Request a Quote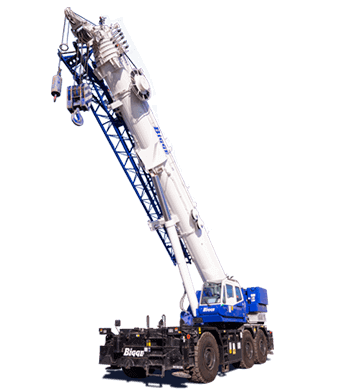 Bigge Crane and Rigging Co.
504-446-6094
10604 Airline Hwy
Gonzales, LA 70737
Driving Directions
If you are traveling to visit our Gonzales crane rental facility via SE on US-61, keep heading SE toward LA-393 E, once arrived you will take a U-Turn and you will have arrived at the facility.
Areas Served
Merrydale, LA
Baker, LA
Shenandoah, LA
Denham Springs, LA
Zachary, LA
Hammond, LA
Laplace, LA
Thibodaux, LA
Solutions for Every Industry
Heavy Lift Equipment and Cranes for Rent
Bigge's Perfect Fleet is one of the largest, most modern, and versatile crane fleets in the world. Over the years, our fleet has grown to over 1500 cranes consisting of best in class truck cranes, all-terrain cranes, rough terrain cranes, crawler cranes, tower cranes, boom trucks, and hoists. Browse the categories below to see cranes or rent.
Bigge in Action
With its global headquarters in San Leandro, Bigge is one of the largest crane rental, rigging, and specialized heavy lift and transportation companies in the U.S. Strategically located in the San Francisco Bay Area, Bigge San Leandro is the principle location for every one of our services.