Seattle - Tacoma - Bellevue Tower Crane Rental
Bigge is serving Washington and Oregon with long term crane rental, offering construction hoists, tower, and mobile cranes for rent in Bellevue, Seattle, Tacoma metro area, Portland, Eugene, and Salem.
Bigge operates the largest tower crane fleet on the West Coast. Combined with our California branches, Bigge has over 150 tower cranes, and provides tower and hoist rental services that include installation and dismantle cranes and hoist cars. We provide lift solutions for any application and specialize in residential and mixed construction, machinery moving, plant relocation, precast building panels, and more.

Heavy Rigging and Transportation - Bigge's heavy rigging, heavy lift, and heavy transportation service is without peer and has helped bring projects as diverse as the Golden Gate Bridge to Levi's Stadium to completion. Bigge provides full engineering support and has over 100 years of experience providing service to nuclear, refinery, and power generation markets.
Pacific Northwest Crane Rental for Large Scale Projects
While we do not offer operated crane rental in the Pacific Northwest, our Perfect Fleet cranes can be dispatched from our California locations to support large-scale projects in Washington and Oregon. We offer competitive pricing to the general contractors working on the project in the Northwest.

Bigge takes pride in contributing its Perfect Fleet to large projects throughout the U.S. that depend on comprehensive crane coverage and minimal downtime. Instead of searching for multiple cranes from different companies, work with Bigge to acquire all the bare rental equipment you need for your large-scale projects. Our modern fleet of over 2,000 machines, including rough terrain cranes, crawler cranes, telecrawlers, tower cranes, and hoists, in capacities ranging from 30 to over 1,000 tons. We have strategically located yards throughout the country to minimize mobilization and service costs.
Need Crane Service?
Bigge has the best equipment, the youngest crane fleet and more board-certified Safety Trained operators and supervisors than any other crane rental outfit in the business. Request a Quote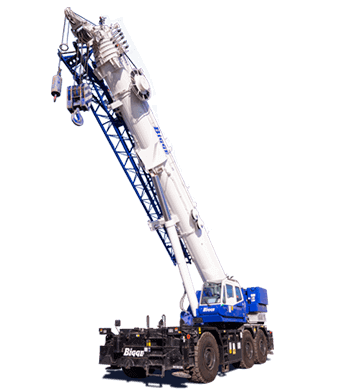 Bigge Crane and Rigging Co.
206-278-0468
By Appointment Only
Seattle, WA
Areas Served
Washington State
Oregon State
Seattle, WA
Tacoma, WA
Bellevue, WA
Portland, OR
Salem, OR
Eugene, OR
Gresham, OR
Solutions for Every Industry
Heavy Lift Equipment and Cranes for Rent
Bigge's Perfect Fleet is one of the largest, most modern, and versatile crane fleets in the world. Over the years, our fleet has grown to over 1500 cranes consisting of best in class truck cranes, all-terrain cranes, rough terrain cranes, crawler cranes, tower cranes, boom trucks, and hoists. Browse the categories below to see cranes or rent.
Bigge in Action
With its global headquarters in San Leandro, Bigge is one of the largest crane rental, rigging, and specialized heavy lift and transportation companies in the U.S. Strategically located in the San Francisco Bay Area, Bigge San Leandro is the principle location for every one of our services.